Waste Removal Knaresborough Service.

Are you looking for a professional Waste Removal service in Knaresborough? Do you want to know that your items go to the proper facilities for Recycling? Meaning you have the paperwork which proves legal and ethical Recycling.

Clearance and clean up provide Waste Removal in Knaresborough and the local area. Doing all the heavy lifting, so you don't have to. Give us a call or head to our online booking system. We'll take care of everything from there. If your waste is accessible, then you don't even need to attend the collection.

We are Knaresborough's best Waste Removal company. Our office and field teams are here for you from inquiry to the completion of your collection. We have more 5-star reviews than any other Waste Removal company in Knaresborough. You can book online anytime. Or give the office a call. We'll be with you within 48 hours.

Trusted by leading brands
Why choose us for your Waste Removal Knaresborough
Our Waste Removal Knaresborough service is for people who do not have time for lengthy queues at the tip. You do not want the hassle of trying to fit your items into the car. And you do not want to wait for, and then fill a skip.

You need a hassle-free Waste Removal service, which is what our Knaresborough team provides. You can book online anytime or speak to our dedicated office team to get an instant quote and make your booking. From there, we will take care of everything.

Our Waste Removal Knaresborough team will arrive wearing full PPE in sign-written vans. They will remove your items from where ever they are. Meaning you do not need to lift a finger. If your items are outside, then we can collect them without you being there. Meaning there is no need for days off work or changing your schedule.

Once complete, you'll have the paperwork which proves legal and ethical Recycling. So, you can be sure that our Knaresborough Waste Removal team will take care of everything as they should. With no chance of repercussions, which is a risk when using unlicensed services.

Our
Waste Removal Knaresborough

customers include:

Domestic Households Single Items to Full Loads.

Estate & Letting Agents.

Commercial Landlords & Landowners.

Shops Bars & Restaurants.

Refurbishment Companies, Shop Fitter, Builders Etc.

We are more than happy to show customers disposal invoices and related paperwork to show we are transparent in what we do. This is all part of the great service from Knaresborough most 5 star reviewed rubbish collection company.

Why use our Knaresborough service?
We have a fleet of vans and supporting office staff. Meaning, our Knaresborough Waste Removal team are more reliable than single-person outfits. We're ready to handle any eventuality.

You can call our office team at any time throughout the day. There's always someone available to answer your call. We're here to help you. Whether you need to make changes to your collection or there's an emergency.

Our Knaresborough Waste Removal team are ready to guide you from start to finish. With our state-of-the-art online booking system and experienced office and field teams. From the moment you book with us to when your items have gone for Recycling. You will be well looked after and receive a professional service.

How our Waste Removal works
Book now on our 24-hour online booking system to view prices and guides on how to book.

All bookings receive an email booking confirmation and invoice on payment.

No office to big or small all Waste Removal works untaken.

All waste disposal certificates issued on disposal/recycle of your waste.

Clearance and Clean Up are Knaresborough's number one local Waste Removal company. We have over 10 years' experience in Waste Removals. We are fully licensed and insured waste carriers and provide a professional and customer focused service to Knaresborough and the surrounding areas.

Why Choose
Clearance & Clean Up

We help thousands of customers every month all across Knaresborough to remove their waste with a hassle free service. Over our years in business we have developed a reputation for a cost effective and professional service.

Pre booked 24/7 service available

Polite and helpful, fully equipped and uniformed staff

FACT – We do all the lifting and shifting for you

We have a fleet of reliable vans to get the job done

We hold the highest required insurances, licences & training.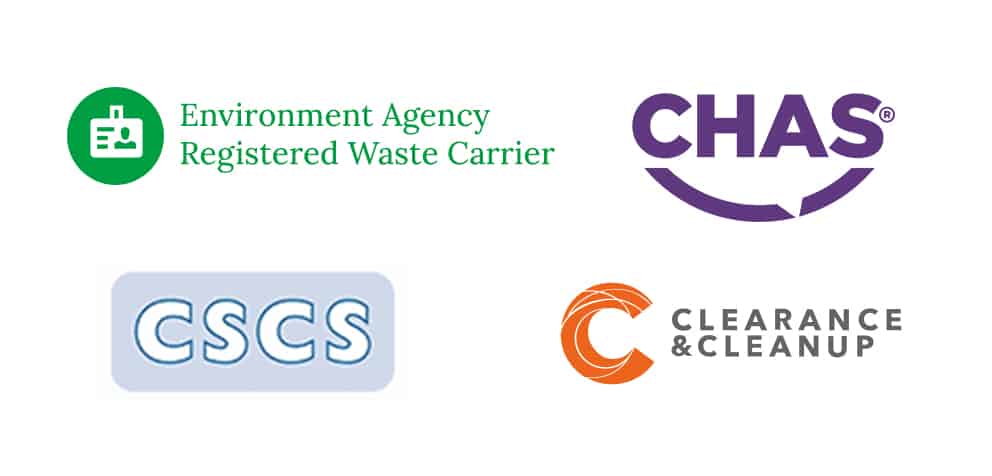 Environment Agency waste licence CBDU155253

Contractors health and safety approved (CHAS).

Trusted by
leading brands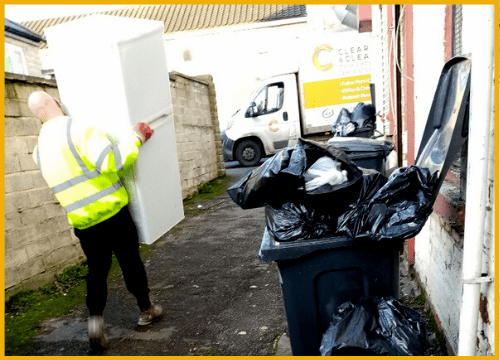 Have a question?
Speak to one of our friendly team today.
For expert advice don't hesitate to get in touch. Call the office or view our prices and book online in 5 easy steps.
We cover the whole of Knaresborough