A few weeks ago, a story hit Sheffield that upset many of its residents.  This wasn't your regular kind of upsetting story because it was actually related to fly tipping after a house clearance in once of Sheffield's most beautiful areas.  Blacka Moor is a nature reserve and on a small road named Moss Road, on its outskirts, the bulk of a house clearance were discovered dumped.  This happening was discovered by a walker, who was horrified and reported in thereafter to the local council.  They highlighted the problems that dumping general rubbish and off loading post house clearance can cause.  These reasons included the eyesore that it causes and the dangers rubbish can cause to humans, wildlife and livestock who live in the area. Plastic bags for example can cause suffocation, glass can cut, injury and kill, as can any sharp object, most household items are not able to be broken down naturally so ecologically are environmentally extremely unfriendly and financially, why should the council have to pay for someone else's household items to be removed and disposed of?  People may think that fly tipping will save them money because they won't have to pay the waste disposal charge, but they obviously do not realise that personal identification can often be obtained from litter which has been dumped and the owner is then tracked down and fined.  This certainly will not save them money!
Respectful Rubbish Removal Specialists – Clearance and Cleanup
Here a Clearance and Cleanup, we are trained to take on any sort of rubbish removal you could possibly think of.  So whether you need to clear out or even if you would just like to free up a little space either at home or at work then why not call us and we can help you reclaim space.  We will come to your property and collect your rubbish and we guarantee that it is disposed of responsibly.  We work in partnership with charity shop and recycling stations so that your rubbish is sustainably disposed of.  Once we have completed your rubbish removal we will provide you with a waste transfer note which is not only a legal document but also confirms that we have done our job correctly so that you can sleep easily at night.  We are highly trained specialists and wear our uniforms with pride because we do our job quickly and to the highest of standard.
[/div]
Contact Clearance and Cleanup
If you are looking for assistance and are looking for a trustworthy, reputable and honest house clearance and rubbish removal team, then why not give Clearance and Clean Up a call.  We work in the Yorkshire area, covering specific areas, such as Sheffield, Chesterfield, Worksop to name but a few.  We guarantee to make your house clearance or your rubbish removal run as smoothly as it possibly can, whilst being economical, too.  So if you either want to declutter or if you are moving house and need assistance, then contact Tom and his professional, friendly team on 0800 410 1086, email us at [email protected] or you can click here and follow the link to be taken directly to our website to read more about the services we offer.
[/div]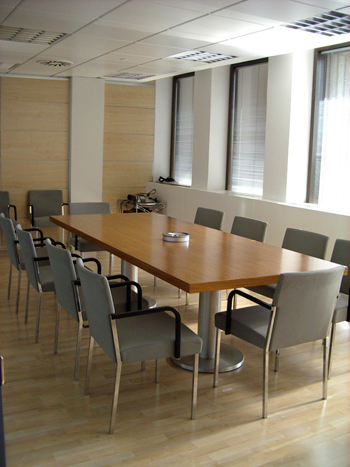 There are so many office buildings in and around Sheffield, many of which are being modernised, updated and decorated. As the economic climate begins to improve, there are also many businesses relocating to larger offices to accommodate more staff, or upgrading to office space with more facilities. Moving offices can be an exciting time, but there are plenty of things to think about to ensure that it runs smoothly. Organisation is key, as the better prepared you are, the easier it will be for everyone.
A great way to take the hassle and stress out of your office move is to quickly and safely dispose of anything you don't plan to take with you. This means that you can get all the rubbish out of the way in one go, leaving you with just the things you plan on taking with you. Moving offices is the perfect opportunity to dispose of the things you no longer need such as broken furniture, ancient files and general rubbish that tends to accumulate over time.
If you are planning an office move, you may want to enlist the help of an office clearance company in Sheffield. Your business may have a lot of old furniture that you are looking to dispose of such as desks, chairs, filing cabinets and electrical appliances. Getting rid of all this by yourself can be a bit of a nightmare and it certainly takes a lot of time and effort.
Safe Disposal of Confidential Waste and Paperwork
You may also have a large amount of old files and paperwork that are no longer needed. When disposing of paperwork and any other confidential waste, it's important to hire a reputable Sheffield office clearance company that will make sure it is disposed of safely.  There are many professions that will naturally acquire a certain amount of confidential information, and it is incredibly important to both your clients and your business that these are dealt with respectfully and appropriately.
Rubbish Removal and Office Clearance Sheffield
Here at Clearance and Clean Up, we provide professional rubbish removal Sheffield and office clearance Sheffield and throughout Yorkshire. We pride ourselves on the quality of our work and enjoy helping people to move offices without too much stress. Our office clearance service means that your waste will be removed and disposed of safely, quickly, and in a way that is responsible to the environment.
If you are moving offices and want to make the process as straightforward as possible, our Sheffield office clearance services can help. We also offer 30 day payment terms on our all of our rubbish removal services and office clearance services. Call us today for a free site visit on 0800 410 1086 or 0114 403 1021, or email us on [email protected]
This week we completed an office clearance in Sheffield, just by the Peace Gardens in the City centre. Office clearances are different in many ways to residential call-outs. Obviously all clearances are different, but the majority of items in an office can be reused which means hardly anything gets thrown away.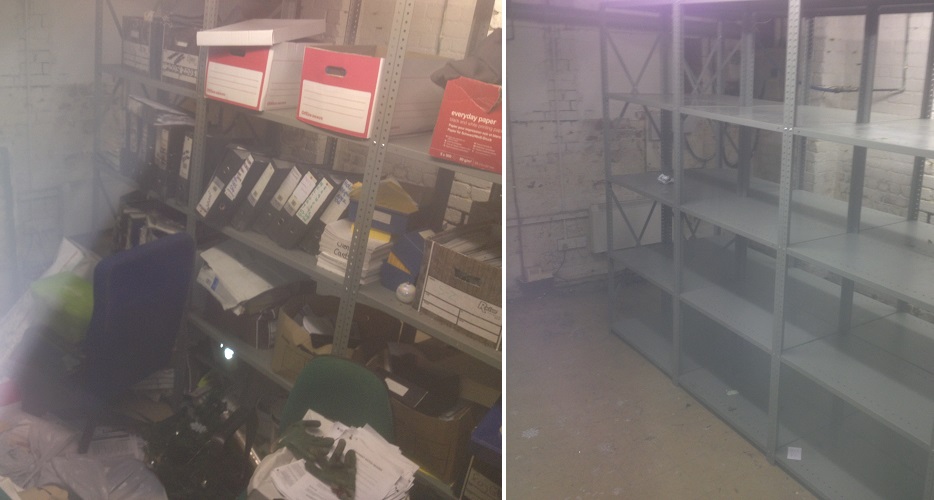 Charity Donations and Recycling
Usually there will be large items like chairs and desks that, for the most part, can be donated to charity. We work closely with lots of charity outlets, so anything that can be reused goes to them. If there are broken items, we will recycle them so that they can be remade into something useful. Our aim is to send as little to landfill as possible.
Safe Electrical Clearances
There are then objects like Computers and fridges that need to be disposed of in a safe and legal way. Our office clearance team is fully compliant with the waste electrical directive, so you can be sure we will handle electricals professionally and of course, you will be issued with the relevant documentation to prove this.
Confidential Document Removal
Finally there may be documents, sometimes confidential, that require disposing of in a sensitive manner. Although not quite the standard lifting and shifting we're used to, we are more than able to handle special requests like this.
If you are in need of an office clearance, just get in touch on 0800 410 1086 or email [email protected]. We are equipped to deal with all eventualities and we offer 30 day payment terms on any work we carry out.