According to Auto World News, the 6th September was 'National Clean Out your Garage Day' in America. A recent survey has concluded that 9 out of 10 Americans use their garage as a workshop, tool shed or recreational area, instead of actually storing their car. The day is apparently dedicated to educating the general public about the importance of organisation and safety in a garage, encouraging people to de-clutter and re-organise to make the space safer and more functional.  As rubbish removal Sheffield experts, we think it's a great idea, and certainly one that us Brits should consider adopting.
Is your Garage Filled with Junk?
Garages are a handy advantage of having a modern home. But ask yourself this – when was the last time you could actually fit your car in the garage?! If you can't remember, or know it's been a while, then you are one of the thousands of people throughout the UK who have sacrificed their garage space to junk. You name it, any item that is no longer used in the house, or that you intend to give to charity or car boot ends up there. And the chances are it never gets any further!
In many homes, garages tend to be a graveyard of clutter, housing random items such as outdoor gear, broken toys, unfinished DIY projects and more. Because lots of people spend very little time in their garage, it can easily be overlooked when it comes to general cleaning, tidying and housekeeping. As they say - out of sight, out of mind.
Claim Back your Garage Space with Rubbish Removal Sheffield
As experts in house clearance services and rubbish removal Sheffield, Clearance and Clean Up come across plenty of customers who have given up their garages to junk. It really is a common problem, but there is a solution! Our team will happily come to your home and remove all the unwanted items from your garage in one go, without you having to lift a finger. You'll be amazed at the amount of space we can create, leaving you with plenty of room to use your garage for what it is supposed to be used for – housing your car! Or maybe you'd just like the space back to be used as a workshop or tool shed, or even converted into an extra room?
Garage Rubbish Removal Sheffield
The specialist rubbish removal team at Clearance and Clean Up are fully equipped to reclaim useful space in your home so you can put it to better use. Once we've collected your rubbish in our rubbish removal trucks we'll make sure it's disposed of responsibly and sustainably through our extensive contacts including local charities and material recycling stations. When the job is complete, you will be issued with a waste transfer note, which is required by law, giving you the peace of mind that your rubbish and junk is being treated and dealt with in the correct manner.
According to recent findings published in a variety of British newspapers, more people in the UK are living in shared homes than ever before. Living with your friends or renting a room in a shared house is an increasingly common way of living for millions of people across the country. Sharing a house can be a really convenient way of living too, as you can split rent, bills and council tax between those living in the house, saving money.
But this rise of house sharing tenants means that landlords are busier than ever. With house members coming and going every few months, it's understandable that there will be a certain amount of rubbish, unwanted possessions and old furniture to dispose of on a regular basis. Often tenants leave behind a fair amount of rubbish and items that they no longer want or need, and it is often left to the landlord to take care of it.
Landlords and Their Responsibilities
So that's where rubbish removal Sheffield services from Clearance and Clean Up can help. If you're a landlord, you may be aware that waste arising from the maintenance of a property is the responsibility of the landlord under the regulations of most councils. Unfortunately, they won't remove this sort of waste for free, so once a tenant has moved out the landlord then has the responsibility of getting rid of rubbish and bulky items left by the former tenant outside the property.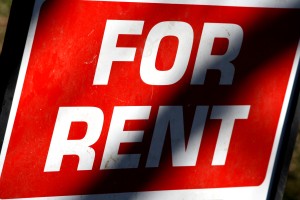 So it is really in the best interests of the landlord when getting the property ready for new tenants to move in, or when embarking on a refurbishment, to get rid of any waste quickly and efficiently. For example, if the landlord were to be fined, it takes a lot of time and effort to try to chase up the tenant in order to get them to reimburse the money.
Rubbish Removal Sheffield as an Alternative to Skip Hire
A landlord may automatically decide on a skip to remove the unwanted items and waste from the property, but as rubbish removal experts in Sheffield, Clearance and Clean Up can offer a cheaper and quicker alternative.  A permit from the council may be needed to have a skip on the side of the road outside the property and this can take some time to arrange. Also, there are several items that can't be placed in a skip, such as electrical items and white goods.
But with rubbish removal Sheffield experts Clearance and Clean Up, our polite, helpful and uniformed staff will not only do all the lifting and shifting for you, but also have a full waste carriers licence so that the waste is taken away legally. It's a quick and efficient way to get rid of any rubbish or unwanted furniture or possessions left behind by a tenant, and it's often cheaper too.
If you are looking for house clearance or rubbish removal Sheffield, Clearance and Clean Up can help. We provide a reliable and efficient service, making us the perfect choice for a mobile skip hire alternative. Contact us on 0800 410 1086 or 0114 403 1021, or email us on [email protected]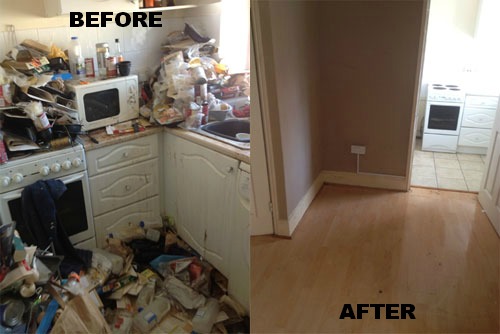 As experienced providers of a variety of clearance services such as office clearance, rubbish removal and house clearance Sheffield, Clearance and Clean Up have seen many a house full to the brim with a selection of household objects, furniture and rubbish. It's not uncommon for us to struggle our way into a property because of all the items crammed inside, but one thing can be assured, we always manage to get the property clean and clear by the time we've finished the job!
Extreme Hoarding and Hoarding Disorder
The media has been awash with cases of extreme hoarding over the last few years. As the problem enters widespread knowledge and more and more people become aware of those living with the condition commonly known as "hoarding disorder", several programmes have popped up on our TV screens. From the Channel 5 documentary 'Can't Stop Won't Stop' focussed around 3 hoarder cases, to the Channel 4 series 'The Hoarder Next Door', the public are slowly becoming aware of the amount of people in the UK affected by this debilitating disorder.
Health Risks Related to Hoarding
There are, of course, many problems with the act of hoarding in a home, and the behaviour has been linked to health risks, impaired functioning, and alienation of family members. It is thought that as many as between 2-5% of the adult population suffer from hoarding disorder, so it's far more common than you may think.
With a range of therapeutic interventions available to help those with hoarding disorder, there is no reason why people suffering from the condition cannot take steps to regain control of their mental health and de-clutter their homes so that they are safe places to live again.
Therapeutic Interventions and Cognitive-Behavioural Therapy
Cognitive-behavioural therapy is a common course of treatment for compulsive hoarding, and this therapeutic intervention can be incredibly effective. By working closely with a patient, the therapist involved will help the sufferer to understand why they are compelled to hoard, and slowly begin to organise their possessions so that they are able to decide what they want to keep and what they are willing to let go of.
Removing clutter from the home can produce promising results, but needs to be done carefully with the help of a therapist. However, once the items have been identified as possessions the sufferer is able to let go of comfortably, the help of house clearance Sheffield services can be utilised.
House Clearance Sheffield Services
Here at Clearance and Clean Up, we are very experienced in the process of removing unwanted items from properties that have been, or still are occupied by those who have suffered with hoarding related disorders. After effective therapy, our staff can de-clutter and clean a house, making a huge difference to the life of the occupant of the house or the person in charge of the property.
If you need help de-cluttering and cleaning with a house clearance Sheffield, Clearance and Clean Up can help. If you would like to receive a quote for house clearance in Sheffield, please call us on 0114 403 1021 or email [email protected]