We've all heard the expression "looks like a building site" said when a place looks messy, and for good reason. Building and construction sites are messy places and produce a lot of waste. With all the rubbish and waste materials left behind during construction, it is often difficult to manage and dispose of correctly. Did you know, for example, that an average sized 3 bedroomed house produces approximately 13 tonnes of waste? It isn't surprising that sometimes building firms attempt to cut costs by getting rid of their rubbish illegally.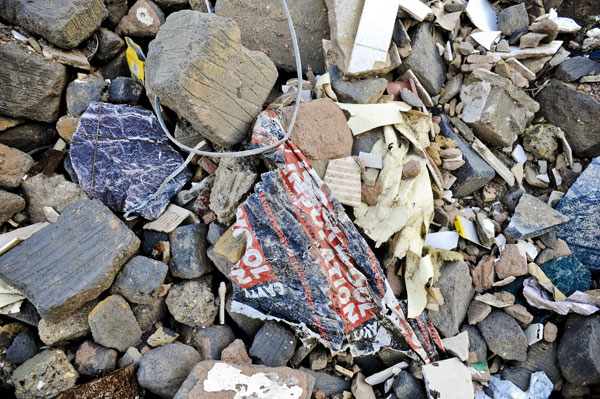 Danger to the Environment
A farmer in Devon has recently been ordered to pay £6,000 in fines and court costs after he had dumped over 50 tonnes of rubbish close to a stream. The man had buried the waste underground after initially being prosecuted for tipping and burning materials on the land. He was ordered to remove the waste however was found to have buried items such as stone, construction rubble, asbestos roofing sheets and electrical goods. They were left next to a stream and close to wildlife meaning that pollution could have damaged the local environment.
Dumped Asbestos
In a similar story, asbestos piping and guttering was tipped in Spalding, Lincolnshire leaving the council (and of course taxpayers) with a £450 bill. It is unclear as to who the culprit is; it is possible that it could be vandals, or perhaps builders looking to offload the piping quickly and cheaply. Either way, it is dangerous and costly to the rest of the community.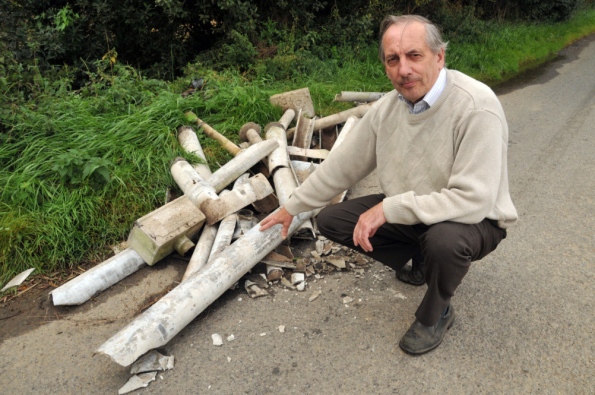 Qualified and Knowledgeable
Clearance and Cleanup are fully licenced and able to remove any construction waste you may have. Likewise, if the waste has already been left or dumped in a public space we can remove that too. We are qualified and knowledgeable when it comes to handling asbestos, so don't risk a large fine if you are struggling to dispose of large quantities of rubbish. Visit our contact page to see how you can get in touch.
_______
Sources:
Farmer Fined for Dumping Waste | North Devon Gazette
Experts Called in to Clear Dumped Asbestos | Spalding Today
We talk a lot about the importance of checking that your waste removal professionals are fully certified to be handling your waste and will dispose of it in a legal and environmentally friendly way. We've seen a lot of stories in local media in the past few weeks that show exactly why we are so concerned about illegal waste removal.  The welfare of our environment is very important to us, which is why we recycle whenever we can, but we also care about our clients and don't want to see them being ripped off or worse!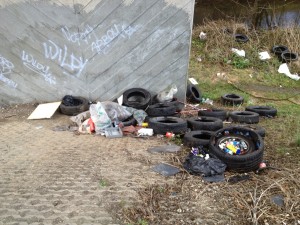 Ask to See a Licence
A man from Soham, Cambridgeshire last week was ordered to pay almost £3,000 in fines and court costs as he was found guilty of profiting from scrap metal and carrying controlled waste without a Waste Carriers Licence. Anybody that transports or sells unwanted scrap metal is required by law to register with the Environmental Agency and purchase a licence which costs around £150 and lasts for 3 years. If you are found handling this type of waste without a licence you are liable for a hefty penalty.

Tipping in Public Spaces
People that offer to take away rubbish for a small price or even for free make their money illegally. The way that this man made money was by selling the metal to scrap yards, however not all individuals can make profit from selling on materials they are offering to remove. If this is the case, often the waste is dumped in public spaces.
In a particularly distressing case, one man found himself at the centre of a flytipping incident involving the possessions of his recently deceased Father. The man gave up the belongings to two people working on behalf of the British Heart Foundation, requesting that they be recycled. The unsaleable items were agreed to be disposed of for £150. The two BHF workers gave the items to an unlicensed individual who then dumped them in a forest. Mr Locker, working for the BHF, has since lost his job working for the charity and was ordered to pay just under £500 in fines for using illegal waste removal services.
"It could be you who ends up in court"
Due to the fact that the unlicensed person could not be traced, it was Mr Locker who was charged as he failed to check for proper documentation. A spokesperson for the local environmental services said:
"This should be a lesson to all residents, there are unscrupulous people out there who will take away your rubbish and dump it illegally […] if they cannot be found and the rubbish is traced back to you, it could be you who ends up in court".
Safe & Legal
It is important to keep in mind the effects that using unlicensed waste carriers can have on the environment, but also the risks that you put yourself under if flytipped waste is traced back to you. ALWAYS ask to see a Waste Carriers Licence to ensure that your rubbish is being handled safely and legally. Clearance and Clean Up are a fully licenced company and are capable of removing any waste you need taking care of. Get in touch if you think we can help!
_____
Sources:
http://www.environment-agency.gov.uk/news/149442.aspx
http://www.bournemouthecho.co.uk/news/10612231.Charity_driver_admits_fly_tipping_offence_after_dead_man_s_items_dumped/
It's perhaps a natural assumption that you can send your old and unused electrical and electronic goods to a landfill site, however it is actually illegal to do this. Waste electrical and electronic equipment (WEEE) is harmful to the environment and if not disposed of correctly can potentially release harmful toxins. Due to the guidelines listed in the WEEE Directive and other such schemes a certain amount of electrical and electronic appliances must be recycled or reused each year. Manufacturers and distributors have responsibilities for arranging disposal of goods no longer in use, but users have a responsibility for their own waste too.
When should you Arrange a Collection?

If you see this image anywhere on your equipment, then you should not send it to landfill, instead arrange for collection or proper disposal. The black bar at the bottom of the image shows that the equipment has been manufactured after August 2005 when the WEEE directive was first established. The initiatives put in place regarding correct EEE waste disposal are excellent  as they encourage manufacturers to make it easier for consumers to recycle or discard old EEE.
There are lots of different materials involved in electrical equipment such as glass, metal, plastics etc. The list of hazardous metals and materials is also long (for example arsenic, cadmium, lead and mercury can all be found in household appliances) and it is for this reason that WEEE removal is a specialist service.
What we can Do for You
Clearance and Clean Up offer a fully WEEE compliant collection service. We collect, dispose and where possible, recycle all of your electrical/electronic waste. We are certified to take away almost anything that you need removing, but here is a list of EEE that we regularly remove on behalf of our clients:
Computers and tower network systems
LCD Plasma and CRT monitors
Games consoles
Alarm systems and equipment
CCTV and security equipment
Lighting, including flourescent tubes
Any IT equipment, domestic or industrial
Washing machines, cookers and fridges, domestic or industrial
Air conditioning, domestic or industrial
If you are unsure whether or not we are able to take your appliances, don't hesitate to get in touch. We most likely can help you out!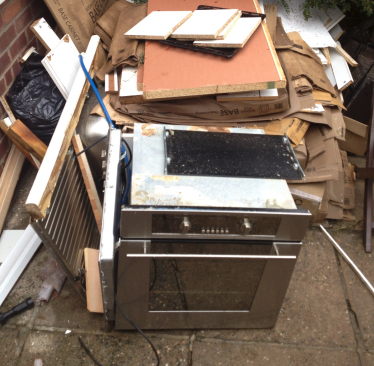 Our complete service includes:
Collection and processing of all business, shop, commercial or domestic WEEE
Consignment notes (where needed)
Processing of WEEE
Disintegration to base metals
Re-use of base metals, once sorted
Re-use of IT equipment where possible
The great weather we've been having means that we're all able to get out and about to parks and other public spaces. Summertime is prime time for children to be able to go and explore the outdoors too. Unfortunately, there is no shortage of news stories concerning discarded needles and sharp objects, and while we can't wrap our families up in cotton wool we at least need to be aware of the dangers. We thought we'd highlight some of the incidents from around the country that have happened in recent weeks.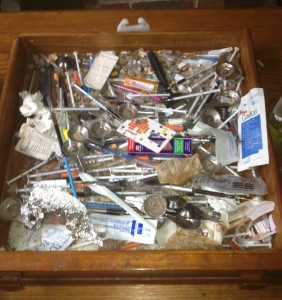 Children Particularly at Risk
Often with needles and sharps, occurrences are isolated to specific areas rather than a widespread distribution (although you should be wary at all times). A housing estate in Wigan has been hit with a spate of drug related activities, and 20 syringes were found in a small wood next to the estate. Children and animals have been put at risk, and so the police in conjunction with the local council have worked to discourage people from meeting there. This is only a temporary solution of course, but it is good that steps have been taken to improve the situation.
Recent Incidents
Needles can cause serious infection, and there have been numerous incidents within the last few months that serve as reminders of how much of a threat they pose. A council worker in Sunderland is currently waiting on test results after pricking himself on a needle hidden inside a toilet roll holder, whilst cleaning the public toilets. He has been tested for HIV, Hepatitis A and B. In Reading two weeks ago a young boy stepped on a hypodermic needle that was lying on the grass. He and his family face an agonizing 3 month wait for test results too. The danger is serious, and innocent people can suffer serious consequences through no fault of their own. In County Durham alone there was 179 used needles found in 2012. This is unacceptable and more steps need to be taken to both prevent needles being dropped and clean up ones that are.
Awareness Schemes
In Carmarthenshire, South Wales an initiative has been set up in order to educate residents about the dangers of discarded needles. Community safety officers will be patrolling needle "hotspots" with special equipment to be able to safely remove sharp objects. Residents are also encouraged to call the local council should they spot any dangerous materials. Under no circumstances should you attempt to move or dispose of needles yourself. Schemes like this are an excellent way to raise awareness and reduce accidents in the community.
We can Help
We offer a needles and sharps removal service, whereby our specially trained team operates safely using appropriate equipment. Take a look at our post on needles and sharps removal for an idea of how we tackle sharp objects, and remember to always call professionals if you come across any hazardous objects. NEVER try to move them yourself.
_____
Sources:
http://www.wigantoday.net/news/local/discarded-needles-pose-real-danger-to-children-1-5922096
http://www.southwalesguardian.co.uk/news/10548471.Battle_against_discarded_needles/?ref=nt
http://www.getreading.co.uk/news/local-news/anxious-wait-family-after-eight-year-old-5596700
http://www.sunderlandecho.com/news/crime/council-cleaner-s-hiv-test-wait-after-drug-needle-stab-in-sunderland-toilets-1-5901925?
One of the more dangerous aspects to our work is our needles and sharps removal service. Often found discarded in public places, they can pose a serious threat not only to wildlife, but also children and unsuspecting adults. It is extremely unsafe for you to go near such items, let alone attempt to clear them yourself. We are trained and certified in handling hazardous waste, so let us explain why our service is so important.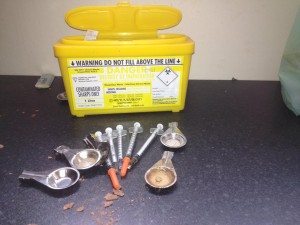 Careful Process
If we suspect that a property or area that we are working on contains sharp objects or needles, we will survey the surroundings before we start work. This enables us to prepare ourselves with the correct attire and equipment in advance. We will then proceed with caution as we remove all unsafe items.  We sterilise and fumigate the affected location after we have cleared the site in order to make it safe for occupation. All needles/sharps/medical wastes are destroyed legally and safely at licensed stations.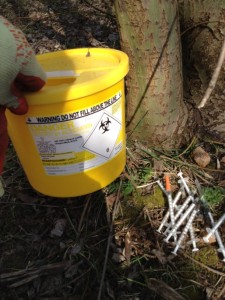 Safe Disposal
All of our work is carried out with the highest of care and attention, and we operate under strict and structured guidelines to ensure that objects are not only removed carefully, but disposed of in a safe and sanitary manner. Our team is fully trained and able to carry out their jobs at the highest level of safety and to the best standard possible.  We will provide official documents as proof of disposal and all of our work is completely transparent.
Reasonable Pricing
Due to the hazardous nature of removing needles and sharps, many companies will charge extortionate prices to cover the risks involved. Clearance and Clean Up recognise how vital it is for dangerous paraphernalia to be removed quickly, and we aim to make it as affordable as possible to return safety to public places. The removal and disposal of needles and sharps starts at £85.00 and we operate in the Yorkshire area. This picture was taken at a recent clearance in Bentley – the needles had been thrown from a public walkway into a car park: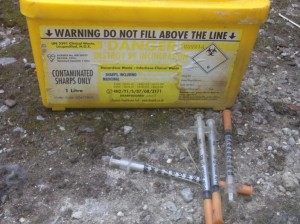 After a tentative start, I think it's fair to say that summer has officially arrived. Those of us landlocked in west and south Yorkshire will no doubt be making a few trips to the seaside over the coming weeks, but a recent story caught our eye that we thought important to share with you.
Mess on the Beach
As you're out and about it's important to think about what you're going to do with your litter. The aftermath of the sunniest weekend of the year resulted in tonnes of litter strewn across beaches up and down the country with Brighton beach (a notoriously busy beach) suffering particularly badly.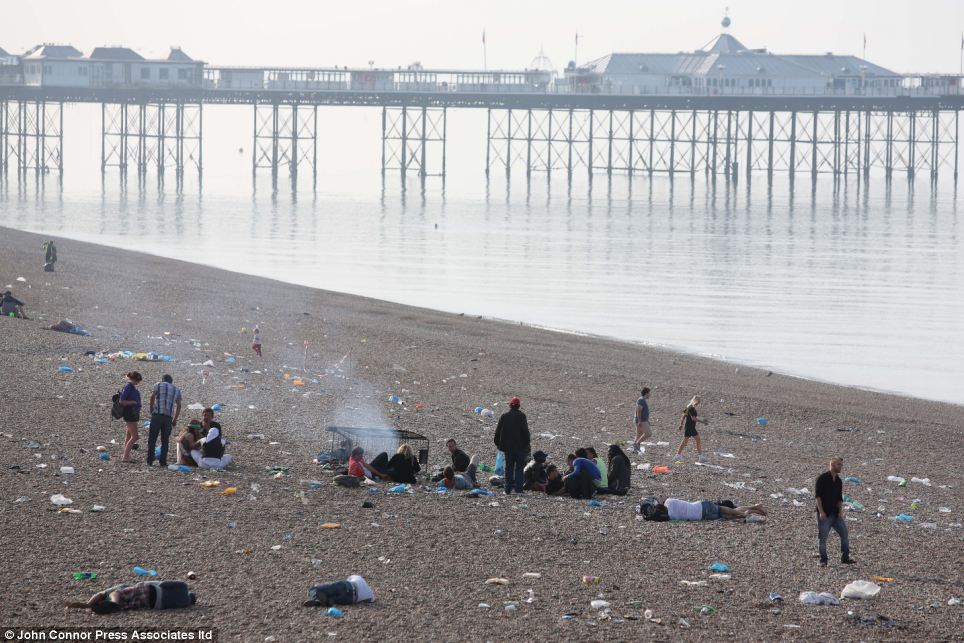 (image credit: The Mail)
Unsightly & Dangerous
Thousands of people enjoying the sun flocked to the coasts to cool off in the sea, however locals didn't have quite as much fun when they saw the carnage left behind by tourists. It's only when you see the mess left on the beach that you realise just how unsightly, annoying and potentially hazardous it can be. If any of that rubbish finds its way into the sea, it could be dangerous to the sea life. It takes no effort to take a designated carrier bag along with you to easily transport your waste with you as you leave.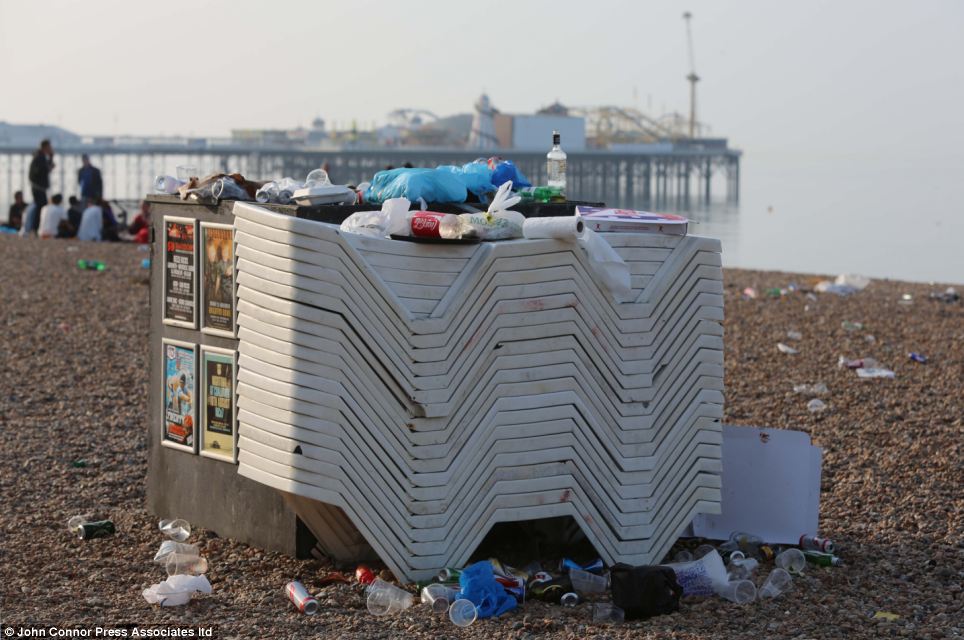 (Image credit: The Mail)
Refuse Strikes
Speaking of Brighton, as a city they're having a tough time dealing with waste removal at the moment as many of their refuse collectors are striking for a second time over disputes about pay. Household waste collection and street cleaning will cease for a week as staff are unhappy that their wages will be cut by an average of £1,000 per year. In some cases this could be as much as £4,000.
Volunteers to Help
The litter left on beaches may be left to volunteers to clean, as the local newspaper has called for help. Last year around 60 volunteers helped to clear up the famous beach, and with refuse collectors on strike it may be left solely the generosity and hard work of locals that the area is kept tidy. We'd come and give you a hand guys, but we've got our hands full up in Yorkshire! We do offer a litter picking service though, so if you're a little closer to home and you have any public or private spaces that require cleaning, don't hesitate to get in touch!
----
Sources:
http://www.theargus.co.uk/news/10548062.Brighton_and_Hove_beaches_left_in_a_mess_after_hot_weekend/
http://www.brightonandhovenews.org/2013/06/18/brighton-and-hove-binmen-to-strike-again-next-week/21956
http://www.dailymail.co.uk/news/article-2362875/UK-Weather-Blazing-temperatures-school-holidays-Britain-continues-sizzle-week-hottest-far.html
We have spoken before about the effects of illegal waste disposal and the effect it can have on the environment and communities. We are pleased to hear this week that the Environment Agency has been teaming up with a number of other agencies to tackle the growing problem of waste crime.
On Tuesday, in conjunction with Crimestoppers and the Road Haulage Association, the Environment Agency were conducting stop and searches of wagons carrying waste, and were also visiting waste sites in an attempt to stop illegal behaviour.
They say that:
"The aim of the day of action, code name Operation Cyclone, is to disrupt the supply of waste to illegal waste sites, gather intelligence and encourage people to report waste crime"
You can find some images taken by the Environment Agency whilst carrying out their stop and searches here.

Paying the Penalty
It is estimated there are over 800 illegal waste sites in England and Wales. Last year alone almost 300 successful prosecutions were carried out due to waste crime, which produced fines exceeding £1.5 million.
Recently, after failing to pay the full amount of almost £1 million, a convicted waste criminal has been sentenced to a further 3 years in prison on top of the 4 and a half years he was initially handed. His illegal operation made millions of pounds worth of profit after he was dumping tonnes of construction waste in an illegal landfill.
The fines and convictions may seem excessive at first glance, but when you realise the damage that these rogue operators do it becomes clear why the punishments are so severe.
Environmental Effects
Aside from the unsightliness of having a makeshift waste site in your community, they also produce foul smells, attract rodents and can cause pollution. With hazardous waste, more serious damage can be caused to local wildlife and humans. This is why it is important to contact trusted professionals to dispose of your waste. While the low costs seem tempting, by funding cowboys you are indirectly contributing to environmental neglect.
If you suspect someone of committing waste crime, you may contact the Environment Agency directly on 0800 80 70 60 or visit their website here. You can also report concerns anonymously to Crimestoppers on 0800 555 111 
Sheffield is renowned for being one of the most green cities in the UK. However, fly tipping is an issue which unfortunately mars the city. Not only is fly tipping unsightly, it is damaging to the environment; placing animals such as fish and woodland creatures in danger. The costly process of cleaning up discarded waste materials is of course paid for by you, the taxpayer.
Where Does The Waste Come From?
Unauthorised waste removal is the main cause of this problem. People that offer to take your rubbish away for a cut price are often responsible for dumping it in secluded areas like the one I visited recently. The woods are full of wildlife and are located right next to a local waterway. These photographs were taken whilst walking my 2 dogs, and as you can see the amount of junk that has been carelessly dumped is appalling.