Fly tipping advice the who why and what.
Hello guys today I'd like to talk to you about fly tipping Sheffield. What is fly-tipping fly-tipping is where generally waste is dumped illegally in certain areas normally by unlicensed individuals homeowners tradesman and many others. One of the main problems with fly-tipping is the fact that is unsightly and it's highly expensive to tidy up.
Certain councils and authorities up and down the country spent hundreds of thousands of pounds each year cleaning up illegal fly tipping year on year. There's certain things people can do a individuals and to reduce fly-tipping one of the things that they can do is make sure that they use a fully licensed waste removal company the second thing is making sure that they issued with the correct paperwork on completion of their rubbish being removed. The paperwork that you should be issued with should be what they call a waste transfer note the items on a waste transfer note should include your full address your full name a brief description of the waste that been removed the contractors full name and full address and also their waste licence number which can be checked on the environment agency website. If individuals wether that be members of the public tradesman or rubbish removal companies are found to be tipping waste in a legal areas the face of fine up to £5,000.
[/div]
The most popular items to be fly tipped are black bags this is based on a survey that was taken up and down the country by different councils The second most popular item was builders and tradesmen waste generally coming from refurbishment projects such as kitchens and bathrooms. In certain areas up and down the country fly tipping Sheffield seems to be on the increase some of the reasons people are giving for flytipping is lack of Transport the price of waste disposal and certain Council tip not allowing certain way streams to enter and also the location of some Council tips is not ideal. Thank you for reading my post please leave some comments with regards to why you think fly-tipping takes place how it can be reduced and any other comments that you would like to make on the above post thank you.

[/div]
According to Sheffield Council, the former open-air ski center has become a prime location for a range of anti social behaviour including vandalism and fly-tipping. The now derelict site which is located just off Vale Road is becoming overrun with rubbish and waste. The Sheffield Star reported that people now describe it as an "eye-sore."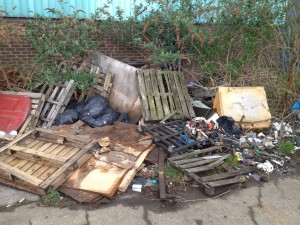 The Ski Village closed in 2012 after a series of fires that destroyed the site. Since the closure, it has been hit by several arson attacks and also become a dumping ground for scrap vehicles, tyres, rubbish, and demolition material.
The Dangers of Uncontrolled Waste Disposal
Dumping waste such as this on unlicensed land and derelict sites is described as fly tipping. Not only is this practice illegal, it is also damaging to the environment and not very nice to look at. In theory, fly tipping can happen anywhere. The derelict site of Sheffield's Ski Village has become a place to dump waste due its disuse and the lack of security on the site.
Understandably, people that live near areas that are used for fly tipping are very unhappy about it, as it is not only unsightly but can be dangerous too. Uncontrolled waste disposal can actually be hazardous to the general public and their pets as it can include syringes and chemical waste, as well electrical items and other waste. This type of waste can also damage the environment, especially wildlife and waterways.
Rubbish Removal Sheffield Can Combat Fly Tipping
Here at Clearance and Clean Up, we provide a rubbish removal and fly tipping waste removal service in Sheffield and throughout Yorkshire. Our team are able to visit a site in a matter of hours, and take the correct action to remove the waste. We carefully clear the area, making sure that we dispose of any waste correctly, and we also endeavour to recycle as much as we possibly can.
If you have been affected by fly tipping and are looking for a reliable, local rubbish removal service in Sheffield to remove the waste, we can help. All of our prices include labour and disposal fee, there are no hidden charges, and you can rest assured that your waste goes to a proper licensed disposal facility. For rubbish removal Sheffield, please contact Clearance and Clean Up on 0800 410 1086 or 0114 403 1021, or email us on [email protected]eandcleanup.co.uk
We've all heard the expression "looks like a building site" said when a place looks messy, and for good reason. Building and construction sites are messy places and produce a lot of waste. With all the rubbish and waste materials left behind during construction, it is often difficult to manage and dispose of correctly. Did you know, for example, that an average sized 3 bedroomed house produces approximately 13 tonnes of waste? It isn't surprising that sometimes building firms attempt to cut costs by getting rid of their rubbish illegally.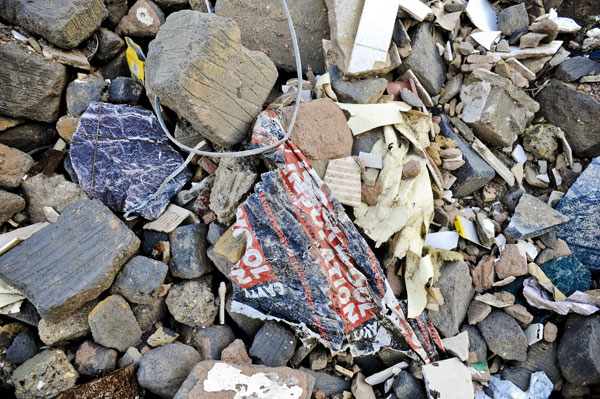 Danger to the Environment
A farmer in Devon has recently been ordered to pay £6,000 in fines and court costs after he had dumped over 50 tonnes of rubbish close to a stream. The man had buried the waste underground after initially being prosecuted for tipping and burning materials on the land. He was ordered to remove the waste however was found to have buried items such as stone, construction rubble, asbestos roofing sheets and electrical goods. They were left next to a stream and close to wildlife meaning that pollution could have damaged the local environment.
Dumped Asbestos
In a similar story, asbestos piping and guttering was tipped in Spalding, Lincolnshire leaving the council (and of course taxpayers) with a £450 bill. It is unclear as to who the culprit is; it is possible that it could be vandals, or perhaps builders looking to offload the piping quickly and cheaply. Either way, it is dangerous and costly to the rest of the community.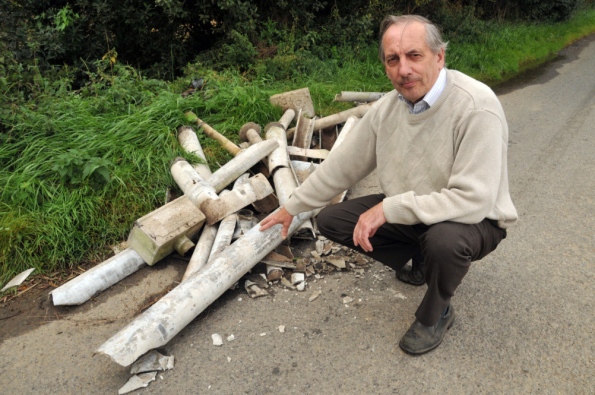 Qualified and Knowledgeable
Clearance and Cleanup are fully licenced and able to remove any construction waste you may have. Likewise, if the waste has already been left or dumped in a public space we can remove that too. We are qualified and knowledgeable when it comes to handling asbestos, so don't risk a large fine if you are struggling to dispose of large quantities of rubbish. Visit our contact page to see how you can get in touch.
_______
Sources:
Farmer Fined for Dumping Waste | North Devon Gazette
Experts Called in to Clear Dumped Asbestos | Spalding Today
Playing fields and parks are focal points within communities and are used by lots of people for a variety of reasons. As events are often staged in these public spaces however, littering and rubbish becomes a problem for those that use them afterwards. The issue of littering is one which has been around for a long time and doesn't seem to be going away. Littering shows a complete lack of consideration for other people, and local councils are keen to keep their public spaces clean.
Keep it Clean
In Blackpool, councillors have requested that local football teams using playing fields clean up after they have finished playing, as empty drinks bottles are often left behind. It has been suggested that the team takes black bin liners with them and perform routine walks along the touch lines after the matches have finished collecting rubbish as they go. With such a large number of people it is difficult to keep track of who is disposing of their rubbish properly, so carrying out a large sweep of the area would certainly help to cut down on the amount that is left behind.
Pitch Invasion
The clubs have responded claiming that they do not leave any rubbish behind when they leave the fields. They also say that the team's managers regularly have to clean up before the match due to the broken glass bottles and sharp cans strewn across the pitches. This is of course extremely dangerous for players as any cuts they sustain could lead to a trip to the hospital! Litter isn't just a matter of tidiness; it can also be unsafe for children, animals and those unaware.
Respect
As these public places are shared by everybody, each with a different use, it's important that we consider our neighbours' needs and respect their right to a safe and clean environment. Whether we are playing football, walking dogs or sitting out for a picnic cleaning up after ourselves should be an automatic action. If fairs or outdoor events are being held then a cleanup becomes a much more difficult task. Outside help from specialist companies such as ourselves is a sensible option to make sure all waste is cleared thoroughly and effectively.
______
Source:
Teams Urged to Clean Up | Blackpool Gazette
Sandall Park
We talk a lot about the importance of checking that your waste removal professionals are fully certified to be handling your waste and will dispose of it in a legal and environmentally friendly way. We've seen a lot of stories in local media in the past few weeks that show exactly why we are so concerned about illegal waste removal.  The welfare of our environment is very important to us, which is why we recycle whenever we can, but we also care about our clients and don't want to see them being ripped off or worse!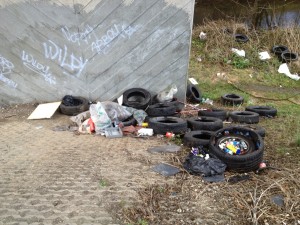 Ask to See a Licence
A man from Soham, Cambridgeshire last week was ordered to pay almost £3,000 in fines and court costs as he was found guilty of profiting from scrap metal and carrying controlled waste without a Waste Carriers Licence. Anybody that transports or sells unwanted scrap metal is required by law to register with the Environmental Agency and purchase a licence which costs around £150 and lasts for 3 years. If you are found handling this type of waste without a licence you are liable for a hefty penalty.

Tipping in Public Spaces
People that offer to take away rubbish for a small price or even for free make their money illegally. The way that this man made money was by selling the metal to scrap yards, however not all individuals can make profit from selling on materials they are offering to remove. If this is the case, often the waste is dumped in public spaces.
In a particularly distressing case, one man found himself at the centre of a flytipping incident involving the possessions of his recently deceased Father. The man gave up the belongings to two people working on behalf of the British Heart Foundation, requesting that they be recycled. The unsaleable items were agreed to be disposed of for £150. The two BHF workers gave the items to an unlicensed individual who then dumped them in a forest. Mr Locker, working for the BHF, has since lost his job working for the charity and was ordered to pay just under £500 in fines for using illegal waste removal services.
"It could be you who ends up in court"
Due to the fact that the unlicensed person could not be traced, it was Mr Locker who was charged as he failed to check for proper documentation. A spokesperson for the local environmental services said:
"This should be a lesson to all residents, there are unscrupulous people out there who will take away your rubbish and dump it illegally […] if they cannot be found and the rubbish is traced back to you, it could be you who ends up in court".
Safe & Legal
It is important to keep in mind the effects that using unlicensed waste carriers can have on the environment, but also the risks that you put yourself under if flytipped waste is traced back to you. ALWAYS ask to see a Waste Carriers Licence to ensure that your rubbish is being handled safely and legally. Clearance and Clean Up are a fully licenced company and are capable of removing any waste you need taking care of. Get in touch if you think we can help!
_____
Sources:
http://www.environment-agency.gov.uk/news/149442.aspx
http://www.bournemouthecho.co.uk/news/10612231.Charity_driver_admits_fly_tipping_offence_after_dead_man_s_items_dumped/
Following on from previous posts we've written about the hazards of fly tipping and illegal waste disposal, we thought it appropriate to draw your attention to a couple of articles we've seen recently. There have been many reports of the contributing factors which lead to increasing numbers and startling figures involving tipping both close to home and further afield.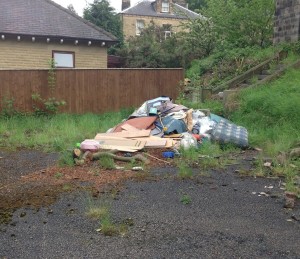 The Star reported back in February about a man in Pitsmoor, Sheffield that discovered a large amount of rubbish tipped on the side of the road. He claimed that the rubbish was attracting rats and was becoming an environmental health hazard. We've spoken about Sheffield being hit particularly badly by fly tippers and this, sadly, is just one example of the way that it is affecting residents.
It has been said that the cuts to the city's waste removal services has caused the surge in illegal tipping numbers. Weekly household bin collections have dropped from a weekly occurrence to fortnightly, and this 50% reduction in collections, it's been claimed, has resulted in a 180% increase in fly tipping incidents. Last year there were 576 cases compared with 204 in the previous year. It is expected that this number will rise in the coming year too.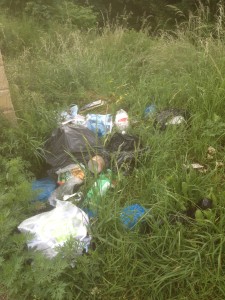 This problem is not just isolated to Sheffield of course, as towns and cities up and down the country are facing waste removal budget cuts, meaning that illegal acts inevitably follow. Businesses are a large source of waste crime, as they produce a lot of waste and are finding themselves unable to cope with limited disposal services. In this article we hear about the hefty disposal fees and landfill taxes that businesses must contend with. This is strained even further by government cuts, resulting in some tradesmen and companies throwing their rubbish into public spaces. Sometimes it is dumped in people's household bins but more often than not industrial estates, country roads, fields and woodland are the main targets. This is possibly due to the secluded locations.
Again, we'd like to stress the importance of using reputable clearance companies, but also to be vigilant and report either anybody seen dumping waste in public spaces, or conducting illegal operations. If you'd like more information on the damage fly tipping causes to the environment, have a look at our earlier post, here.
_____
Sources:
http://www.marketoracle.co.uk/Article40776.html
http://www.thestar.co.uk/news/flytipping-on-the-rise-in-sheffield-1-5444131
http://www.edie.net/news/5/Fly-tipping-reaches-new-heights-as-landfill-tax-starts-to-bite-/
We have spoken before about the effects of illegal waste disposal and the effect it can have on the environment and communities. We are pleased to hear this week that the Environment Agency has been teaming up with a number of other agencies to tackle the growing problem of waste crime.
On Tuesday, in conjunction with Crimestoppers and the Road Haulage Association, the Environment Agency were conducting stop and searches of wagons carrying waste, and were also visiting waste sites in an attempt to stop illegal behaviour.
They say that:
"The aim of the day of action, code name Operation Cyclone, is to disrupt the supply of waste to illegal waste sites, gather intelligence and encourage people to report waste crime"
You can find some images taken by the Environment Agency whilst carrying out their stop and searches here.

Paying the Penalty
It is estimated there are over 800 illegal waste sites in England and Wales. Last year alone almost 300 successful prosecutions were carried out due to waste crime, which produced fines exceeding £1.5 million.
Recently, after failing to pay the full amount of almost £1 million, a convicted waste criminal has been sentenced to a further 3 years in prison on top of the 4 and a half years he was initially handed. His illegal operation made millions of pounds worth of profit after he was dumping tonnes of construction waste in an illegal landfill.
The fines and convictions may seem excessive at first glance, but when you realise the damage that these rogue operators do it becomes clear why the punishments are so severe.
Environmental Effects
Aside from the unsightliness of having a makeshift waste site in your community, they also produce foul smells, attract rodents and can cause pollution. With hazardous waste, more serious damage can be caused to local wildlife and humans. This is why it is important to contact trusted professionals to dispose of your waste. While the low costs seem tempting, by funding cowboys you are indirectly contributing to environmental neglect.
If you suspect someone of committing waste crime, you may contact the Environment Agency directly on 0800 80 70 60 or visit their website here. You can also report concerns anonymously to Crimestoppers on 0800 555 111 
Whether you're conducting home improvements, or simply having a clear out, you're likely to have a lot of rubbish that needs shifting. You can usually tell which households are renovating due to the huge, bright yellow skip sitting at the front of their driveway. Clearance and Clean Up can get rid of any excess material you have with minimum fuss, and a little more subtly than having big waste containers lying around.
You won't need a permit for having a skip on the street, and our 2 man teams will do all the tiring lifting. We could work out cheaper too as our prices are based on volume and weight, and they are not pre-fixed prices, whereas you could only fill half a skip but still pay full prices. In most cases we work out approximately 20% cheaper.
We make sure all areas are swept up and left clean and tidy, and we'll do our best to recycle anything we possibly can. Any electrical items you have will be removed by us and we always provide you with a complete invoice and a full waste transfer note (see why this is important here).
Here is just one example of the work we've done in the past:
Before                                                               After
Sheffield is renowned for being one of the most green cities in the UK. However, fly tipping is an issue which unfortunately mars the city. Not only is fly tipping unsightly, it is damaging to the environment; placing animals such as fish and woodland creatures in danger. The costly process of cleaning up discarded waste materials is of course paid for by you, the taxpayer.
Where Does The Waste Come From?
Unauthorised waste removal is the main cause of this problem. People that offer to take your rubbish away for a cut price are often responsible for dumping it in secluded areas like the one I visited recently. The woods are full of wildlife and are located right next to a local waterway. These photographs were taken whilst walking my 2 dogs, and as you can see the amount of junk that has been carelessly dumped is appalling.