We've all heard the expression "looks like a building site" said when a place looks messy, and for good reason. Building and construction sites are messy places and produce a lot of waste. With all the rubbish and waste materials left behind during construction, it is often difficult to manage and dispose of correctly. Did you know, for example, that an average sized 3 bedroomed house produces approximately 13 tonnes of waste? It isn't surprising that sometimes building firms attempt to cut costs by getting rid of their rubbish illegally.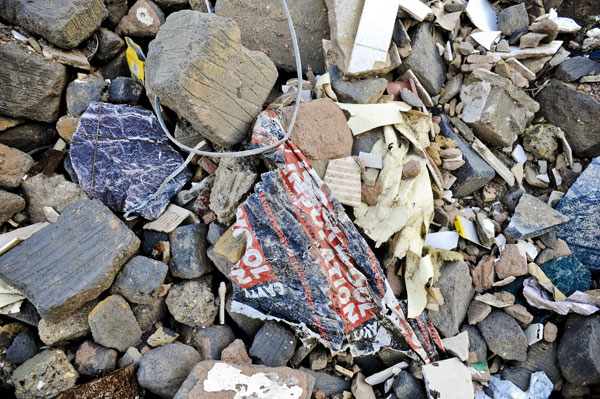 Danger to the Environment
A farmer in Devon has recently been ordered to pay £6,000 in fines and court costs after he had dumped over 50 tonnes of rubbish close to a stream. The man had buried the waste underground after initially being prosecuted for tipping and burning materials on the land. He was ordered to remove the waste however was found to have buried items such as stone, construction rubble, asbestos roofing sheets and electrical goods. They were left next to a stream and close to wildlife meaning that pollution could have damaged the local environment.
Dumped Asbestos
In a similar story, asbestos piping and guttering was tipped in Spalding, Lincolnshire leaving the council (and of course taxpayers) with a £450 bill. It is unclear as to who the culprit is; it is possible that it could be vandals, or perhaps builders looking to offload the piping quickly and cheaply. Either way, it is dangerous and costly to the rest of the community.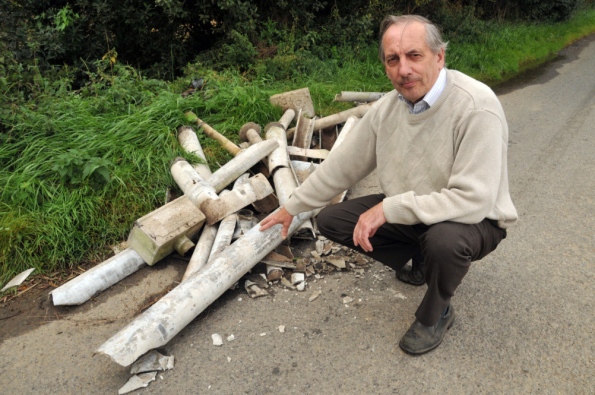 Qualified and Knowledgeable
Clearance and Cleanup are fully licenced and able to remove any construction waste you may have. Likewise, if the waste has already been left or dumped in a public space we can remove that too. We are qualified and knowledgeable when it comes to handling asbestos, so don't risk a large fine if you are struggling to dispose of large quantities of rubbish. Visit our contact page to see how you can get in touch.
_______
Sources:
Farmer Fined for Dumping Waste | North Devon Gazette
Experts Called in to Clear Dumped Asbestos | Spalding Today
Playing fields and parks are focal points within communities and are used by lots of people for a variety of reasons. As events are often staged in these public spaces however, littering and rubbish becomes a problem for those that use them afterwards. The issue of littering is one which has been around for a long time and doesn't seem to be going away. Littering shows a complete lack of consideration for other people, and local councils are keen to keep their public spaces clean.
Keep it Clean
In Blackpool, councillors have requested that local football teams using playing fields clean up after they have finished playing, as empty drinks bottles are often left behind. It has been suggested that the team takes black bin liners with them and perform routine walks along the touch lines after the matches have finished collecting rubbish as they go. With such a large number of people it is difficult to keep track of who is disposing of their rubbish properly, so carrying out a large sweep of the area would certainly help to cut down on the amount that is left behind.
Pitch Invasion
The clubs have responded claiming that they do not leave any rubbish behind when they leave the fields. They also say that the team's managers regularly have to clean up before the match due to the broken glass bottles and sharp cans strewn across the pitches. This is of course extremely dangerous for players as any cuts they sustain could lead to a trip to the hospital! Litter isn't just a matter of tidiness; it can also be unsafe for children, animals and those unaware.
Respect
As these public places are shared by everybody, each with a different use, it's important that we consider our neighbours' needs and respect their right to a safe and clean environment. Whether we are playing football, walking dogs or sitting out for a picnic cleaning up after ourselves should be an automatic action. If fairs or outdoor events are being held then a cleanup becomes a much more difficult task. Outside help from specialist companies such as ourselves is a sensible option to make sure all waste is cleared thoroughly and effectively.
______
Source:
Teams Urged to Clean Up | Blackpool Gazette
Sandall Park
We are often called in to properties that have been repossessed to clear the house of the previous occupiers' mess. We were asked not too long ago to carry out some work on a fire damaged property in Barnsley. The work was issued by a national company and had to be carried out in a very short time scale as they themselves were working to a deadline.
Exposed
There were many problems with this property, but the most difficult to contend with was the fact the roof had being taken off following a fire. So despite the house being fire damaged, the whole building was soaked throughout due to being exposed to the elements.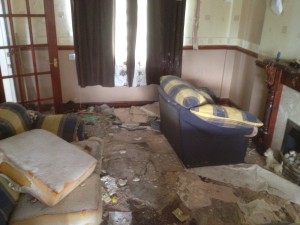 Wet & Heavy
Every room in the upstairs of the house was covered in pieces of the ceiling, which had fallen through. The wet plasterboard had to be removed prior to removing the items of furniture and carpeting which were also soaked, very heavy and filthy from the fire. Naturally, we found moving the heavy, damp plasterboard a bit of a struggle!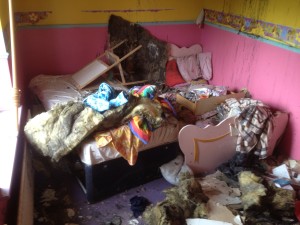 Making the Property Presentable
Once the property was cleared and fully swept through we had to go back and give it a thorough "basic" clean before the property was ready to receive viewings from prospective buyers. The front and back gardens were also very overgrown. Coupled with the fact that they were full of rubble and broken tiles from the damaged roof, this made it hard work cutting back and clearing it. We needed to make sure the gardens were presentable so that people viewing the house could appreciate the size.The job was a tiring and extremely dirty job which needed to be tacked fast. We put in a lot of effort so that we would be finished for the deadline date.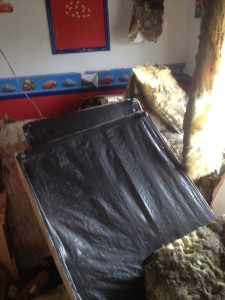 After We Had Finished
Overall the property went from being overgrown, filthy and full of rubbish to a clean and clear space with a nice garden. Of course there was little we could do about the fire damage and roofing situation, however we put the property in a position where it was able to be viewed by the public safely, and so that they could visualize what a completely renovated house might look like.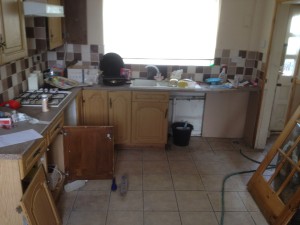 Success!
In total, we cleared away 4 van loads of rubbish, which equates to approximately 5 tonnes! All rubbish was taken to a local waste transfer station and anything that we could recycle was done so appropriately. The work we carried out went a long way to helping the owners in selling. The house was sold on the 1st viewing after we had finished, whereas before, 3 previews viewings wouldn't even go inside! Another success for Clearance and Clean Up! If we can help with your clearance and removal needs, drop us a line. Find out how on our contact page.

This week on our travels we headed over to Goole in East Yorkshire to carry out a loft clearance, however it wasn't quite as simple as we first expected it to be! We encountered a fair few problems that turned tasks which should have been relatively simple, into a carefully considered removal.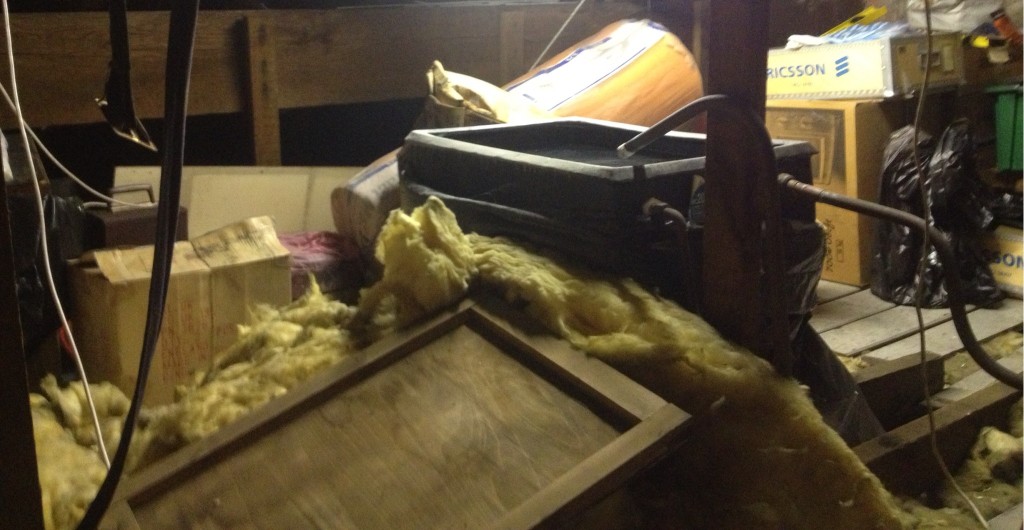 Limited Access
First of all, to actually access the loft we had to set up step ladders. This helped us to get up there, but carrying heavy objects out became quite treacherous! There wasn't much room to manoeuvre them through the hatch, and passing them down the step ladder required plenty of caution.
In the loft itself, there was very little room to stand as the ceiling was so low -we had to operate whilst crouching. We also had to provide our own lighting, using torches and electric lanterns as there was no main source of light installed in the loft.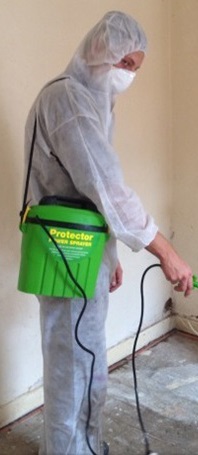 Preventing Accidents
This particular space did not have a stable floor to walk on; just wooden beams. We had to lay big wooden walk boards on top so we could move around easily to reduce the risk of slipping, harming ourselves and damaging the loft. Special equipment and clothing is needed, such as overall white suits to stop itching from insulating material. We also wear dust masks, as there can be lots of irritating and potentially harmful dust particles that can easily be inhaled.
Careful Planning
Loft clearances need plenty of planning, but not just in terms of logistics. We have to pre-plan the order in which we take things out so we can maximise the amount we recycle, and make it easier for ourselves when organising materials. We take the items down in recyclable category so that it becomes simpler to partition.
Loft clearances are part of most house clearances prior to selling or returning to the local authority. Before properties can be sold on or re-purposed, they require thorough cleaning and all objects and possessions to be removed. That's where we come in!
 If you have a property in need of a clearance you can get in touch Freephone on 0800 410 1086 or email us at [email protected]
Following on from previous posts we've written about the hazards of fly tipping and illegal waste disposal, we thought it appropriate to draw your attention to a couple of articles we've seen recently. There have been many reports of the contributing factors which lead to increasing numbers and startling figures involving tipping both close to home and further afield.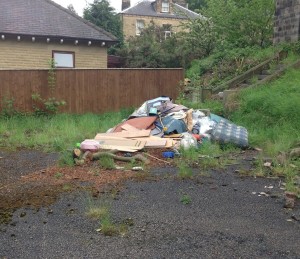 The Star reported back in February about a man in Pitsmoor, Sheffield that discovered a large amount of rubbish tipped on the side of the road. He claimed that the rubbish was attracting rats and was becoming an environmental health hazard. We've spoken about Sheffield being hit particularly badly by fly tippers and this, sadly, is just one example of the way that it is affecting residents.
It has been said that the cuts to the city's waste removal services has caused the surge in illegal tipping numbers. Weekly household bin collections have dropped from a weekly occurrence to fortnightly, and this 50% reduction in collections, it's been claimed, has resulted in a 180% increase in fly tipping incidents. Last year there were 576 cases compared with 204 in the previous year. It is expected that this number will rise in the coming year too.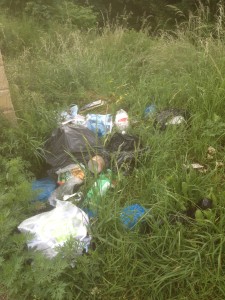 This problem is not just isolated to Sheffield of course, as towns and cities up and down the country are facing waste removal budget cuts, meaning that illegal acts inevitably follow. Businesses are a large source of waste crime, as they produce a lot of waste and are finding themselves unable to cope with limited disposal services. In this article we hear about the hefty disposal fees and landfill taxes that businesses must contend with. This is strained even further by government cuts, resulting in some tradesmen and companies throwing their rubbish into public spaces. Sometimes it is dumped in people's household bins but more often than not industrial estates, country roads, fields and woodland are the main targets. This is possibly due to the secluded locations.
Again, we'd like to stress the importance of using reputable clearance companies, but also to be vigilant and report either anybody seen dumping waste in public spaces, or conducting illegal operations. If you'd like more information on the damage fly tipping causes to the environment, have a look at our earlier post, here.
_____
Sources:
http://www.marketoracle.co.uk/Article40776.html
http://www.thestar.co.uk/news/flytipping-on-the-rise-in-sheffield-1-5444131
http://www.edie.net/news/5/Fly-tipping-reaches-new-heights-as-landfill-tax-starts-to-bite-/
This week we completed an office clearance in Sheffield, just by the Peace Gardens in the City centre. Office clearances are different in many ways to residential call-outs. Obviously all clearances are different, but the majority of items in an office can be reused which means hardly anything gets thrown away.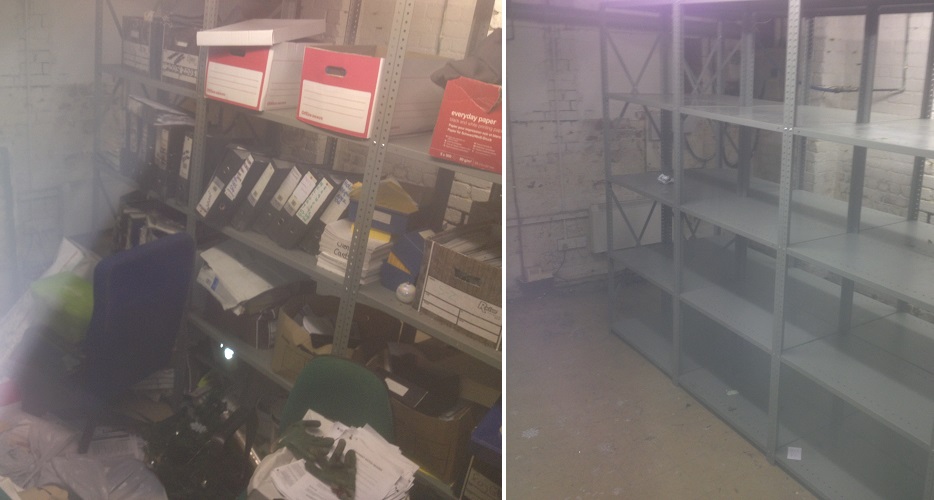 Charity Donations and Recycling
Usually there will be large items like chairs and desks that, for the most part, can be donated to charity. We work closely with lots of charity outlets, so anything that can be reused goes to them. If there are broken items, we will recycle them so that they can be remade into something useful. Our aim is to send as little to landfill as possible.
Safe Electrical Clearances
There are then objects like Computers and fridges that need to be disposed of in a safe and legal way. Our office clearance team is fully compliant with the waste electrical directive, so you can be sure we will handle electricals professionally and of course, you will be issued with the relevant documentation to prove this.
Confidential Document Removal
Finally there may be documents, sometimes confidential, that require disposing of in a sensitive manner. Although not quite the standard lifting and shifting we're used to, we are more than able to handle special requests like this.
If you are in need of an office clearance, just get in touch on 0800 410 1086 or email [email protected]. We are equipped to deal with all eventualities and we offer 30 day payment terms on any work we carry out.
It looks like the sun has finally reached Yorkshire (With the exception of the last few days!). That means more time spent in the garden for BBQs and parties. It's very easy to neglect the garden area over the winter months though, and it could well be in need of a tidy up before you start sending those invitations out.
That's where Clearance and Cleanup come in. We can carry out all levels of garden clearance and ensure all garden waste is recycled. Trimmings, cuttings and old lawn removals are not a problem, but that also goes for old furniture and gardening equipment too. It doesn't matter if your garden is landscaped or over-grown. We can also dismantle and clear sheds, greenhouses and even concrete garages too.
We will send a 2-man team, and if it they can lift it they will take it away. Waste like top-soil will be priced by weight but our prices include labour and disposal costs too. We're cheaper than hiring a skip (plus you won't have it sat outside your house for days) and we do all the lifting and shifting for you!
We're available across South and West Yorkshire, and of course we will always issue you with a full invoice and waste transfer notice. Have a look at this garden we tackled not so long ago: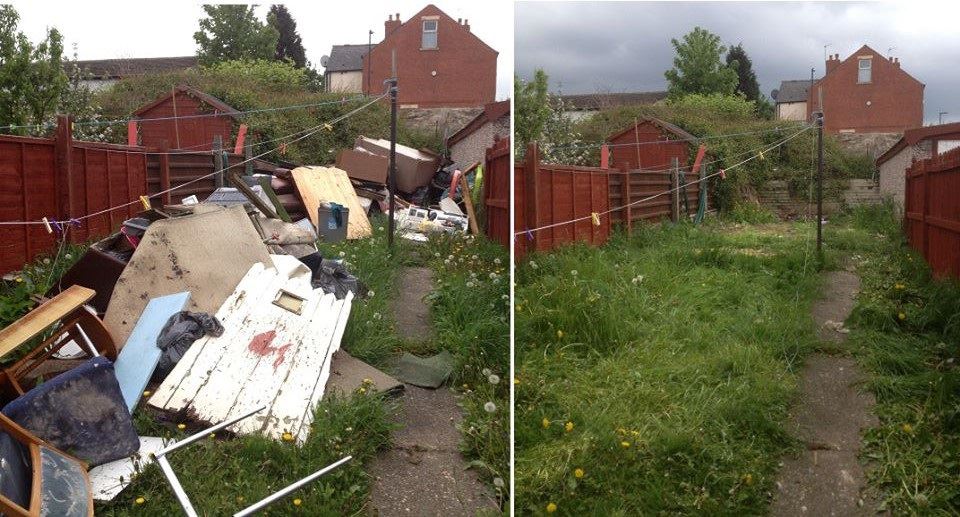 Before                                                                   After
The great thing about our line of work is that no two jobs are the same. We can be moving old boxes from storage rooms one day to enormous clearances the next. An example of the latter was when we travelled to Cleckheaton to clear a huge mound of rubbish away.
A former travellers' site, there was a lot of waste material left over from the time they had been living there. The pile included inert waste (such as soil and rubble) and was topped up with wood and general litter. The car park of a large sweet making factory was the location of the site, so it was important that the mess was cleaned up quickly and thoroughly.
Staff at the factory had to find alternative parking until we had completed the job, but luckily our three-man team had totally cleared everything in just two days. We had to combine a few different methods to get the desired results. Using a rubbish clearance truck and two 8 yard skips for the heavier rubble and soil we were able to get the larger items away in big quantities.
We think we did a pretty good job (if we say so ourselves), what do you think?
There's no job too big for us, and not too long ago that claim was well and truly put to the test. We were called in for a large scale clearance in Leeds City Centre, removing all kinds of rubbish from behind the iconic Corn Exchange shopping centre.
The adjoining alley way between two busy streets has been an ideal target for litterers, and an enclosure separated by a small wall had been used as a dumping ground by builders for their construction waste and as a litter bin for passers-by.
The wall had to be demolished for ease of access to the large scale 2 day clearance, and in the meantime the alley way was closed in order for the work to be carried out. Amongst the rubbish there were a number of needles and sharp objects with evidence of rats and other rodents. Our cleanup team therefore had to wear full personal protection equipment and clothing and clear the rubbish away slowly and safely.
Upon completion, the area was left open and free of any rubbish and also by taking the wall down we have prevented the area being used as a makeshift skip in the future. Take a look at the before and after photographs of the cleanup:
Before                                                              After