We've all heard the expression "looks like a building site" said when a place looks messy, and for good reason. Building and construction sites are messy places and produce a lot of waste. With all the rubbish and waste materials left behind during construction, it is often difficult to manage and dispose of correctly. Did you know, for example, that an average sized 3 bedroomed house produces approximately 13 tonnes of waste? It isn't surprising that sometimes building firms attempt to cut costs by getting rid of their rubbish illegally.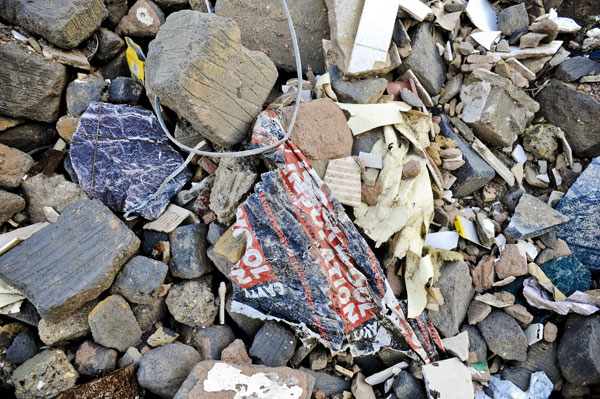 Danger to the Environment
A farmer in Devon has recently been ordered to pay £6,000 in fines and court costs after he had dumped over 50 tonnes of rubbish close to a stream. The man had buried the waste underground after initially being prosecuted for tipping and burning materials on the land. He was ordered to remove the waste however was found to have buried items such as stone, construction rubble, asbestos roofing sheets and electrical goods. They were left next to a stream and close to wildlife meaning that pollution could have damaged the local environment.
Dumped Asbestos
In a similar story, asbestos piping and guttering was tipped in Spalding, Lincolnshire leaving the council (and of course taxpayers) with a £450 bill. It is unclear as to who the culprit is; it is possible that it could be vandals, or perhaps builders looking to offload the piping quickly and cheaply. Either way, it is dangerous and costly to the rest of the community.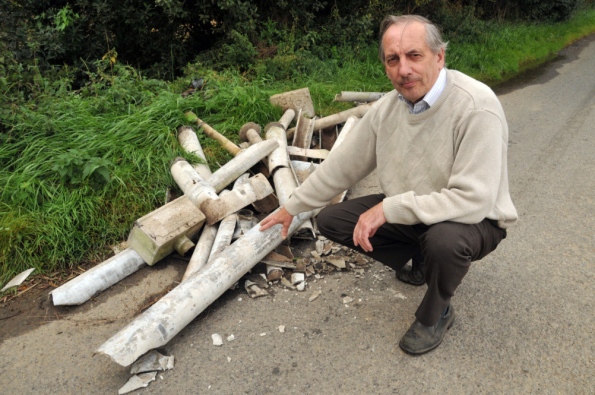 Qualified and Knowledgeable
Clearance and Cleanup are fully licenced and able to remove any construction waste you may have. Likewise, if the waste has already been left or dumped in a public space we can remove that too. We are qualified and knowledgeable when it comes to handling asbestos, so don't risk a large fine if you are struggling to dispose of large quantities of rubbish. Visit our contact page to see how you can get in touch.
_______
Sources:
Farmer Fined for Dumping Waste | North Devon Gazette
Experts Called in to Clear Dumped Asbestos | Spalding Today
We are often called in to properties that have been repossessed to clear the house of the previous occupiers' mess. We were asked not too long ago to carry out some work on a fire damaged property in Barnsley. The work was issued by a national company and had to be carried out in a very short time scale as they themselves were working to a deadline.
Exposed
There were many problems with this property, but the most difficult to contend with was the fact the roof had being taken off following a fire. So despite the house being fire damaged, the whole building was soaked throughout due to being exposed to the elements.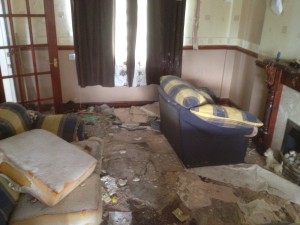 Wet & Heavy
Every room in the upstairs of the house was covered in pieces of the ceiling, which had fallen through. The wet plasterboard had to be removed prior to removing the items of furniture and carpeting which were also soaked, very heavy and filthy from the fire. Naturally, we found moving the heavy, damp plasterboard a bit of a struggle!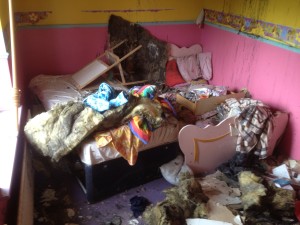 Making the Property Presentable
Once the property was cleared and fully swept through we had to go back and give it a thorough "basic" clean before the property was ready to receive viewings from prospective buyers. The front and back gardens were also very overgrown. Coupled with the fact that they were full of rubble and broken tiles from the damaged roof, this made it hard work cutting back and clearing it. We needed to make sure the gardens were presentable so that people viewing the house could appreciate the size.The job was a tiring and extremely dirty job which needed to be tacked fast. We put in a lot of effort so that we would be finished for the deadline date.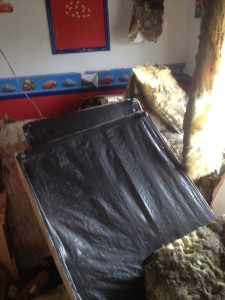 After We Had Finished
Overall the property went from being overgrown, filthy and full of rubbish to a clean and clear space with a nice garden. Of course there was little we could do about the fire damage and roofing situation, however we put the property in a position where it was able to be viewed by the public safely, and so that they could visualize what a completely renovated house might look like.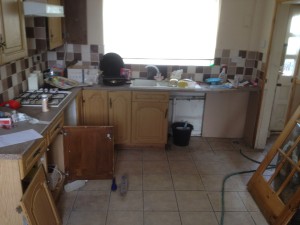 Success!
In total, we cleared away 4 van loads of rubbish, which equates to approximately 5 tonnes! All rubbish was taken to a local waste transfer station and anything that we could recycle was done so appropriately. The work we carried out went a long way to helping the owners in selling. The house was sold on the 1st viewing after we had finished, whereas before, 3 previews viewings wouldn't even go inside! Another success for Clearance and Clean Up! If we can help with your clearance and removal needs, drop us a line. Find out how on our contact page.

Our more practical services involve the more typical lifting and shifting work that you would probably expect of Clearance and Cleanup, however there are many other facilities that we offer aside from large clearance operations. One of the most varied parts of our job is the deep cleaning service. We have undertaken many different jobs, and trust us, every single one is new experience for us. We should note that during deep cleans we have to be extremely careful, as we put ourselves at risk. We deal with hazardous materials regularly, and so take the necessary precautions.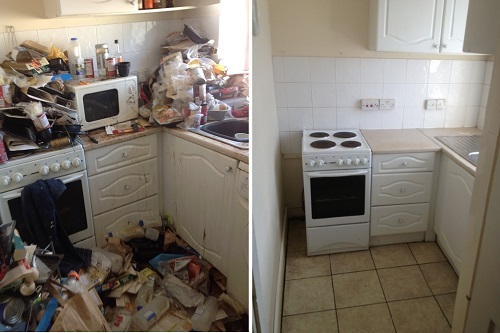 Remaining Professional
There are many reasons as to why a person may need a deep clean of their property, with numerous different objects and substances that need to be cleaned.  We cater for all situations, and remain respectful and professional throughout, despite the fact we are perhaps working under sensitive conditions.
Property Cleaning
Perhaps you're a landlord of a rented property, if so we are able to clean up after messy tenants - Not everybody leaves a house how they found it! This goes for all properties that are void or empty. Factories, offices or residential, we will deep clean after occupiers have left, or if the property has been left vacant for a long time. Cleaning properties used by hoarders also falls under our extreme cleaning category, due to the potentially hazardous nature of the task. An excess of possessions and waste materials can become a breeding ground for rodents and insects, which in turn spreads bacteria. For more information about hoarding, refer to our previous blog post on the subject.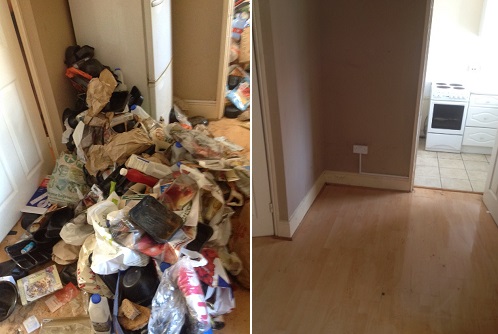 Biological Waste
We are able to clean up biological waste too. Of course, operating with the correct biohazard clothing and equipment, a clean-up of fecal matter from humans and animals is not a problem for the team. We have been called out to toilet blocks, prisons (dirty protests), and cleared public monuments and spaces of animal droppings too.
With extreme cleaning we are regularly required to attend crime or accident scenes. We have worked on traumas, suicides and undiscovered deaths too. We are fully certified and licenced and have the relevant equipment in order for us to be able to carry out our work to the highest standers. What's more, we use environmentally friendly cleaning products exclusively.
Safety First
The priority for us is safety when it comes to deep and extreme cleans. We do everything possible to ensure the safety of our team when executing the work and the state of the property after we've finished, so that it can be used safely again. If you think we may be able to help, then get in touch freephone on 0800 410 1086.
We talk a lot about the importance of checking that your waste removal professionals are fully certified to be handling your waste and will dispose of it in a legal and environmentally friendly way. We've seen a lot of stories in local media in the past few weeks that show exactly why we are so concerned about illegal waste removal.  The welfare of our environment is very important to us, which is why we recycle whenever we can, but we also care about our clients and don't want to see them being ripped off or worse!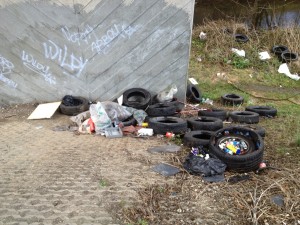 Ask to See a Licence
A man from Soham, Cambridgeshire last week was ordered to pay almost £3,000 in fines and court costs as he was found guilty of profiting from scrap metal and carrying controlled waste without a Waste Carriers Licence. Anybody that transports or sells unwanted scrap metal is required by law to register with the Environmental Agency and purchase a licence which costs around £150 and lasts for 3 years. If you are found handling this type of waste without a licence you are liable for a hefty penalty.

Tipping in Public Spaces
People that offer to take away rubbish for a small price or even for free make their money illegally. The way that this man made money was by selling the metal to scrap yards, however not all individuals can make profit from selling on materials they are offering to remove. If this is the case, often the waste is dumped in public spaces.
In a particularly distressing case, one man found himself at the centre of a flytipping incident involving the possessions of his recently deceased Father. The man gave up the belongings to two people working on behalf of the British Heart Foundation, requesting that they be recycled. The unsaleable items were agreed to be disposed of for £150. The two BHF workers gave the items to an unlicensed individual who then dumped them in a forest. Mr Locker, working for the BHF, has since lost his job working for the charity and was ordered to pay just under £500 in fines for using illegal waste removal services.
"It could be you who ends up in court"
Due to the fact that the unlicensed person could not be traced, it was Mr Locker who was charged as he failed to check for proper documentation. A spokesperson for the local environmental services said:
"This should be a lesson to all residents, there are unscrupulous people out there who will take away your rubbish and dump it illegally […] if they cannot be found and the rubbish is traced back to you, it could be you who ends up in court".
Safe & Legal
It is important to keep in mind the effects that using unlicensed waste carriers can have on the environment, but also the risks that you put yourself under if flytipped waste is traced back to you. ALWAYS ask to see a Waste Carriers Licence to ensure that your rubbish is being handled safely and legally. Clearance and Clean Up are a fully licenced company and are capable of removing any waste you need taking care of. Get in touch if you think we can help!
_____
Sources:
http://www.environment-agency.gov.uk/news/149442.aspx
http://www.bournemouthecho.co.uk/news/10612231.Charity_driver_admits_fly_tipping_offence_after_dead_man_s_items_dumped/
This week on our travels we headed over to Goole in East Yorkshire to carry out a loft clearance, however it wasn't quite as simple as we first expected it to be! We encountered a fair few problems that turned tasks which should have been relatively simple, into a carefully considered removal.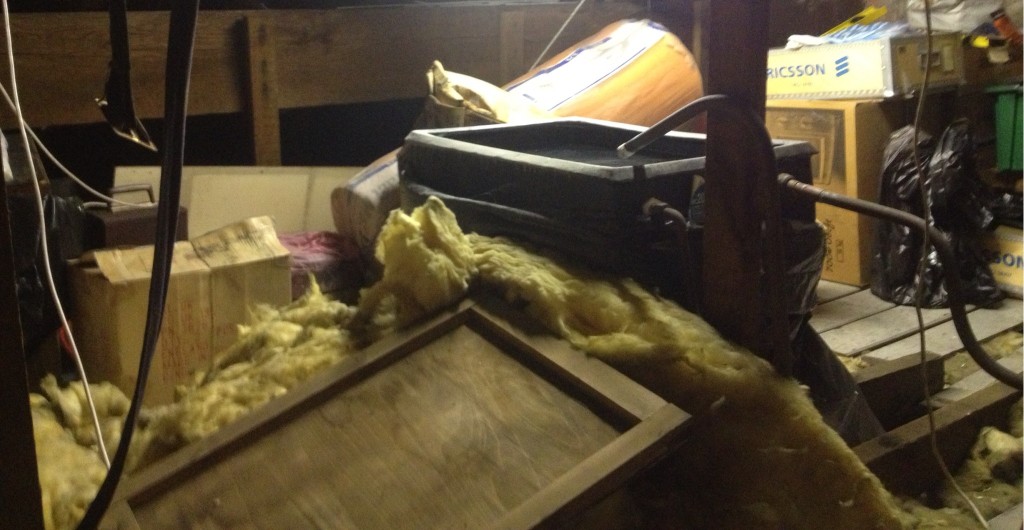 Limited Access
First of all, to actually access the loft we had to set up step ladders. This helped us to get up there, but carrying heavy objects out became quite treacherous! There wasn't much room to manoeuvre them through the hatch, and passing them down the step ladder required plenty of caution.
In the loft itself, there was very little room to stand as the ceiling was so low -we had to operate whilst crouching. We also had to provide our own lighting, using torches and electric lanterns as there was no main source of light installed in the loft.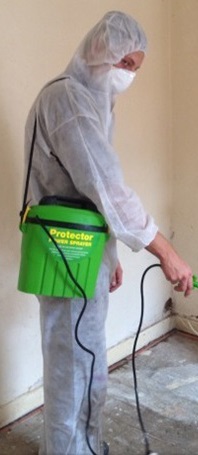 Preventing Accidents
This particular space did not have a stable floor to walk on; just wooden beams. We had to lay big wooden walk boards on top so we could move around easily to reduce the risk of slipping, harming ourselves and damaging the loft. Special equipment and clothing is needed, such as overall white suits to stop itching from insulating material. We also wear dust masks, as there can be lots of irritating and potentially harmful dust particles that can easily be inhaled.
Careful Planning
Loft clearances need plenty of planning, but not just in terms of logistics. We have to pre-plan the order in which we take things out so we can maximise the amount we recycle, and make it easier for ourselves when organising materials. We take the items down in recyclable category so that it becomes simpler to partition.
Loft clearances are part of most house clearances prior to selling or returning to the local authority. Before properties can be sold on or re-purposed, they require thorough cleaning and all objects and possessions to be removed. That's where we come in!
 If you have a property in need of a clearance you can get in touch Freephone on 0800 410 1086 or email us at [email protected]
It's perhaps a natural assumption that you can send your old and unused electrical and electronic goods to a landfill site, however it is actually illegal to do this. Waste electrical and electronic equipment (WEEE) is harmful to the environment and if not disposed of correctly can potentially release harmful toxins. Due to the guidelines listed in the WEEE Directive and other such schemes a certain amount of electrical and electronic appliances must be recycled or reused each year. Manufacturers and distributors have responsibilities for arranging disposal of goods no longer in use, but users have a responsibility for their own waste too.
When should you Arrange a Collection?

If you see this image anywhere on your equipment, then you should not send it to landfill, instead arrange for collection or proper disposal. The black bar at the bottom of the image shows that the equipment has been manufactured after August 2005 when the WEEE directive was first established. The initiatives put in place regarding correct EEE waste disposal are excellent  as they encourage manufacturers to make it easier for consumers to recycle or discard old EEE.
There are lots of different materials involved in electrical equipment such as glass, metal, plastics etc. The list of hazardous metals and materials is also long (for example arsenic, cadmium, lead and mercury can all be found in household appliances) and it is for this reason that WEEE removal is a specialist service.
What we can Do for You
Clearance and Clean Up offer a fully WEEE compliant collection service. We collect, dispose and where possible, recycle all of your electrical/electronic waste. We are certified to take away almost anything that you need removing, but here is a list of EEE that we regularly remove on behalf of our clients:
Computers and tower network systems
LCD Plasma and CRT monitors
Games consoles
Alarm systems and equipment
CCTV and security equipment
Lighting, including flourescent tubes
Any IT equipment, domestic or industrial
Washing machines, cookers and fridges, domestic or industrial
Air conditioning, domestic or industrial
If you are unsure whether or not we are able to take your appliances, don't hesitate to get in touch. We most likely can help you out!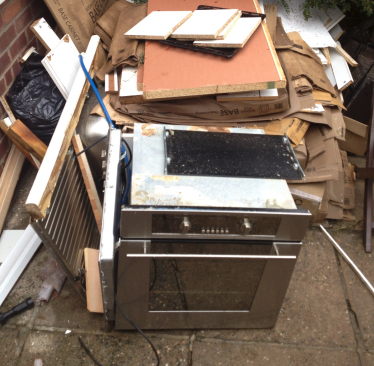 Our complete service includes:
Collection and processing of all business, shop, commercial or domestic WEEE
Consignment notes (where needed)
Processing of WEEE
Disintegration to base metals
Re-use of base metals, once sorted
Re-use of IT equipment where possible
The great weather we've been having means that we're all able to get out and about to parks and other public spaces. Summertime is prime time for children to be able to go and explore the outdoors too. Unfortunately, there is no shortage of news stories concerning discarded needles and sharp objects, and while we can't wrap our families up in cotton wool we at least need to be aware of the dangers. We thought we'd highlight some of the incidents from around the country that have happened in recent weeks.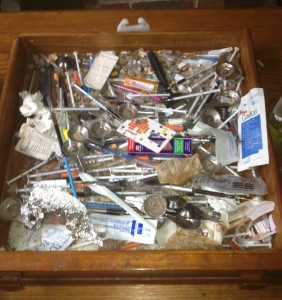 Children Particularly at Risk
Often with needles and sharps, occurrences are isolated to specific areas rather than a widespread distribution (although you should be wary at all times). A housing estate in Wigan has been hit with a spate of drug related activities, and 20 syringes were found in a small wood next to the estate. Children and animals have been put at risk, and so the police in conjunction with the local council have worked to discourage people from meeting there. This is only a temporary solution of course, but it is good that steps have been taken to improve the situation.
Recent Incidents
Needles can cause serious infection, and there have been numerous incidents within the last few months that serve as reminders of how much of a threat they pose. A council worker in Sunderland is currently waiting on test results after pricking himself on a needle hidden inside a toilet roll holder, whilst cleaning the public toilets. He has been tested for HIV, Hepatitis A and B. In Reading two weeks ago a young boy stepped on a hypodermic needle that was lying on the grass. He and his family face an agonizing 3 month wait for test results too. The danger is serious, and innocent people can suffer serious consequences through no fault of their own. In County Durham alone there was 179 used needles found in 2012. This is unacceptable and more steps need to be taken to both prevent needles being dropped and clean up ones that are.
Awareness Schemes
In Carmarthenshire, South Wales an initiative has been set up in order to educate residents about the dangers of discarded needles. Community safety officers will be patrolling needle "hotspots" with special equipment to be able to safely remove sharp objects. Residents are also encouraged to call the local council should they spot any dangerous materials. Under no circumstances should you attempt to move or dispose of needles yourself. Schemes like this are an excellent way to raise awareness and reduce accidents in the community.
We can Help
We offer a needles and sharps removal service, whereby our specially trained team operates safely using appropriate equipment. Take a look at our post on needles and sharps removal for an idea of how we tackle sharp objects, and remember to always call professionals if you come across any hazardous objects. NEVER try to move them yourself.
_____
Sources:
http://www.wigantoday.net/news/local/discarded-needles-pose-real-danger-to-children-1-5922096
http://www.southwalesguardian.co.uk/news/10548471.Battle_against_discarded_needles/?ref=nt
http://www.getreading.co.uk/news/local-news/anxious-wait-family-after-eight-year-old-5596700
http://www.sunderlandecho.com/news/crime/council-cleaner-s-hiv-test-wait-after-drug-needle-stab-in-sunderland-toilets-1-5901925?
One of the more dangerous aspects to our work is our needles and sharps removal service. Often found discarded in public places, they can pose a serious threat not only to wildlife, but also children and unsuspecting adults. It is extremely unsafe for you to go near such items, let alone attempt to clear them yourself. We are trained and certified in handling hazardous waste, so let us explain why our service is so important.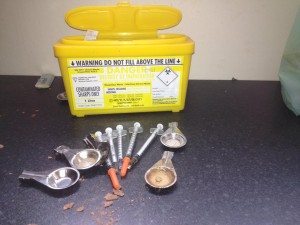 Careful Process
If we suspect that a property or area that we are working on contains sharp objects or needles, we will survey the surroundings before we start work. This enables us to prepare ourselves with the correct attire and equipment in advance. We will then proceed with caution as we remove all unsafe items.  We sterilise and fumigate the affected location after we have cleared the site in order to make it safe for occupation. All needles/sharps/medical wastes are destroyed legally and safely at licensed stations.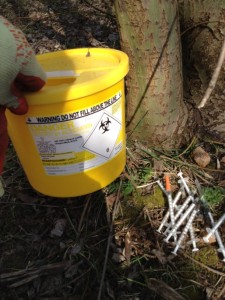 Safe Disposal
All of our work is carried out with the highest of care and attention, and we operate under strict and structured guidelines to ensure that objects are not only removed carefully, but disposed of in a safe and sanitary manner. Our team is fully trained and able to carry out their jobs at the highest level of safety and to the best standard possible.  We will provide official documents as proof of disposal and all of our work is completely transparent.
Reasonable Pricing
Due to the hazardous nature of removing needles and sharps, many companies will charge extortionate prices to cover the risks involved. Clearance and Clean Up recognise how vital it is for dangerous paraphernalia to be removed quickly, and we aim to make it as affordable as possible to return safety to public places. The removal and disposal of needles and sharps starts at £85.00 and we operate in the Yorkshire area. This picture was taken at a recent clearance in Bentley – the needles had been thrown from a public walkway into a car park: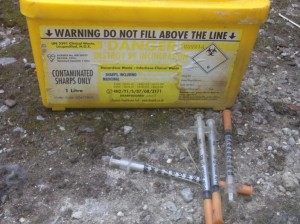 Last week we touched on the occasionally sensitive aspect of our job; something that perhaps isn't always associated with waste removal. When carrying out office removals we quite often have to dispose of confidential files and documents. Then, when performing house clearances there are times when a level of compassion needs to be upheld. In the case of a bereavement, whereby individuals require a property clearing after the passing of a loved one, this is especially important.
Professionalism
Bereavement is always a tough time for a family, and then with added stresses of having to arrange a multitude of services, it is appreciated when we do our job with as little fuss as possible. We always maintain a professional attitude and work hard to move quickly and effectively to help the bereaved as much as we can.
Seeing possessions go out the door can be upsetting too. As we've mentioned in previous blog posts, we try to recycle items where we can but can accommodate most requests for methods of disposal.
Complying with Regulations
We work alongside estate agents to make sure that we only remove the things we're supposed to. Likewise with solicitors, as often there are items that cannot be removed from the property for legal reasons. While our priority is to comply with regulations, another of our main aims is to ensure we are respectful to both people and properties involved.
This week we completed an office clearance in Sheffield, just by the Peace Gardens in the City centre. Office clearances are different in many ways to residential call-outs. Obviously all clearances are different, but the majority of items in an office can be reused which means hardly anything gets thrown away.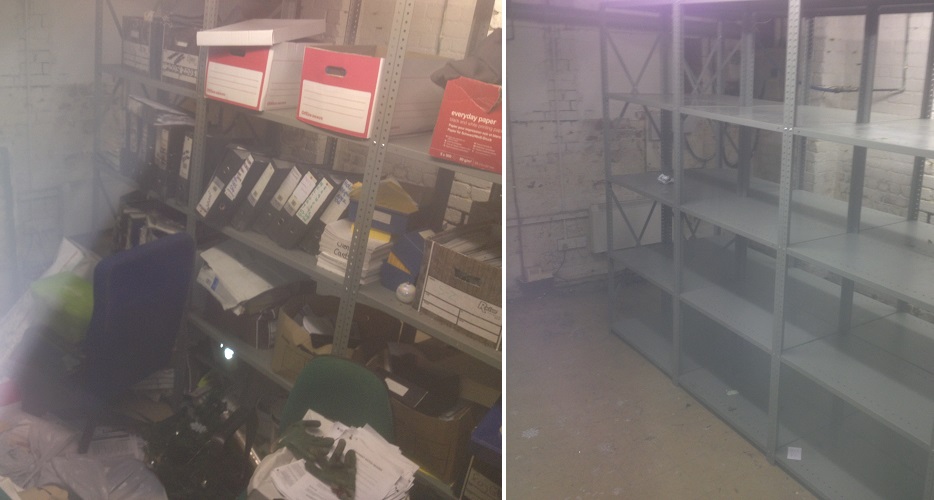 Charity Donations and Recycling
Usually there will be large items like chairs and desks that, for the most part, can be donated to charity. We work closely with lots of charity outlets, so anything that can be reused goes to them. If there are broken items, we will recycle them so that they can be remade into something useful. Our aim is to send as little to landfill as possible.
Safe Electrical Clearances
There are then objects like Computers and fridges that need to be disposed of in a safe and legal way. Our office clearance team is fully compliant with the waste electrical directive, so you can be sure we will handle electricals professionally and of course, you will be issued with the relevant documentation to prove this.
Confidential Document Removal
Finally there may be documents, sometimes confidential, that require disposing of in a sensitive manner. Although not quite the standard lifting and shifting we're used to, we are more than able to handle special requests like this.
If you are in need of an office clearance, just get in touch on 0800 410 1086 or email [email protected]. We are equipped to deal with all eventualities and we offer 30 day payment terms on any work we carry out.