With a new shopping mall and multi-purpose arena built right in the centre of Leeds, it's understandable that the council (and indeed the residents) want the city to look its best as it attracts new visitors. Last year though, the amount of complaints about litter doubled from the previous year with almost 3,000 grievances being filed. The number of complains concerning dog fouling were up to 827 last year too, which is almost 8 times the amount that it was from the year before. Clearly litter is a problem in Leeds, so it is encouraging to hear that Leeds City Council has schemes in place to keep the city centre clean.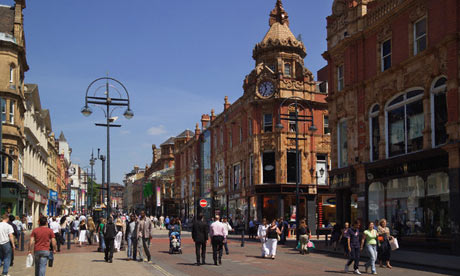 Taking it to the Streets
A private firm has been hired to issue on-the-spot fines if they see anyone committing an act of littering, with the penalty standing at £75. A small team is currently patrolling the heart of Leeds, on the lookout for those carelessly discarding rubbish instead of using litter bins, or allowing their dogs to foul the pavements. There is slight controversy over the fines system however, as Leeds city council take a percentage of the fine, whilst the hired firm takes the rest. The catch is that this is how the company makes their money, as they are not being paid by Leeds City Council. This could lead to heavy handed policing of the situation and misleading figures being produced.
The Right Impression
This is a trial scheme that is being run, however between the period of April to July over £44,000 has been generated as a result of the fines. This means that a six figure sum could potentially be reached within a year. The council claims that although they stand to make money from the scheme, their primary goal is to improve the look and cleanliness of the city. With the rise in visitor numbers to Leeds, they say it is important to create a good impression to encourage repeat visits to the popular West Yorkshire hub.
Your view?
What do you think about how this litter problem is being handled? Surely any scheme to keep our streets clean is a good thing, though perhaps a private hire company could lead to overzealous officers dishing out unnecessary punishments. Let us know in our comments section below.
Clearance and Cleanup offers a litter picking service, available to cater for both public spaces and private hire. Whether this is a short term job, such as cleaning up after a festival, or longer term contracts working in conjunction with councils or agencies, we are able to accommodate most needs.
Source:
http://www.yorkshirepost.co.uk/news/features/sweeping-away-the-leeds-litter-louts-1-5885171
It looks like the sun has finally reached Yorkshire (With the exception of the last few days!). That means more time spent in the garden for BBQs and parties. It's very easy to neglect the garden area over the winter months though, and it could well be in need of a tidy up before you start sending those invitations out.
That's where Clearance and Cleanup come in. We can carry out all levels of garden clearance and ensure all garden waste is recycled. Trimmings, cuttings and old lawn removals are not a problem, but that also goes for old furniture and gardening equipment too. It doesn't matter if your garden is landscaped or over-grown. We can also dismantle and clear sheds, greenhouses and even concrete garages too.
We will send a 2-man team, and if it they can lift it they will take it away. Waste like top-soil will be priced by weight but our prices include labour and disposal costs too. We're cheaper than hiring a skip (plus you won't have it sat outside your house for days) and we do all the lifting and shifting for you!
We're available across South and West Yorkshire, and of course we will always issue you with a full invoice and waste transfer notice. Have a look at this garden we tackled not so long ago: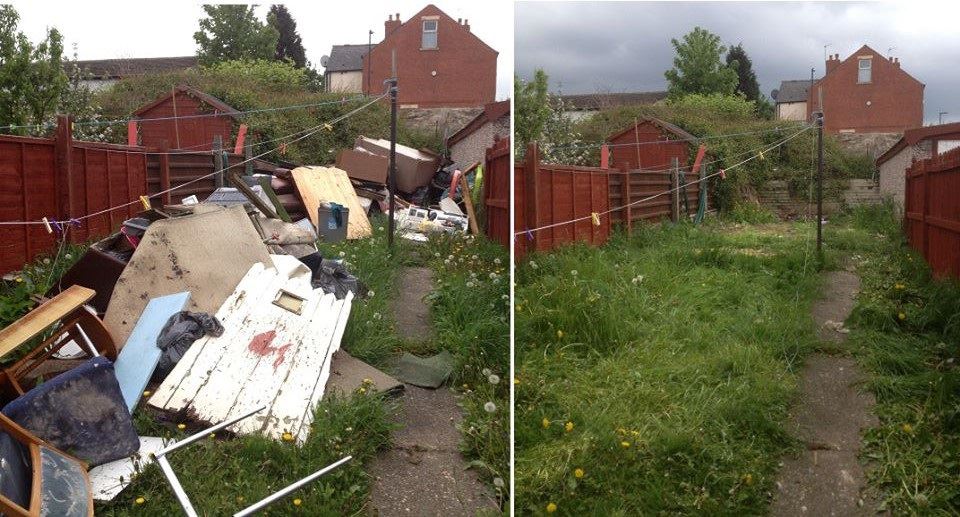 Before                                                                   After
There's no job too big for us, and not too long ago that claim was well and truly put to the test. We were called in for a large scale clearance in Leeds City Centre, removing all kinds of rubbish from behind the iconic Corn Exchange shopping centre.
The adjoining alley way between two busy streets has been an ideal target for litterers, and an enclosure separated by a small wall had been used as a dumping ground by builders for their construction waste and as a litter bin for passers-by.
The wall had to be demolished for ease of access to the large scale 2 day clearance, and in the meantime the alley way was closed in order for the work to be carried out. Amongst the rubbish there were a number of needles and sharp objects with evidence of rats and other rodents. Our cleanup team therefore had to wear full personal protection equipment and clothing and clear the rubbish away slowly and safely.
Upon completion, the area was left open and free of any rubbish and also by taking the wall down we have prevented the area being used as a makeshift skip in the future. Take a look at the before and after photographs of the cleanup:
Before                                                              After