House clearance Sheffield advice by Tom Pickering the owner of South Yorkshire largest on demand rubbish removal and property clearance company and I'm going to give you my top 10 tips to make your clearance go as smoothly as possible and save you both time and money on the process.
Take anything you are keeping out of the property or at very least put in 1 room in the corner and label do not remove this will save the clearance company time trying to decide what is staying and what is going and avoids any confusion.
This isn't a must but will save time and ultimatly save you money empty and bag up the kitchen cupboards or at the very least take the items out and put on the kitchen side this will save the clearance company time.
Empty and bag up clothes again not a must but will save time and you money also gives you a chance to make sure you haven't missed anything of value.
Get a charity round this good for a few reasons you are donating items and a bonus is the more they take for free the less the house clearance company
will charge as most companies price based on volume and time on site but don't be disopointed when they take very little charities are inundated with stock and can be picky.
When phoning to book your clearance have as much detail as possible to include , List of the large items cooker beds etc, Any access issues narrow lane etc , Details about basements or garages the better the detail the more accurate the price will be.
Knowing whats required by this I mean house clearances can be done for many reason and the properties can be of any type weather its privately owned housing association council etc they all have different standards they want them back in so for instance if its privately owned is it going up for sale does it need cleaning and making presentable. If its a council house are the carpets to come up do the lights need changing back to standard fitments their is many questions to ask just cover your self by asking them what standard do you want the property to be handed over in.
Time slots for booking your clearance this will all depend on the size of your clearance and the company will advise but I would recommend the first slot in the morning as this is normally more reliable as if they have jobs before you they could run over making them late to yours.
Let the clearance company do their job once they are on site have a chat with them and leave them to it specially if its a full clearance and you have removed your items of value they will work faster ultimately saving you money if their was any problems they would have your number.
On completion of the clearance walk round the property with a member of the clearance team making sure nothing has being missed sometime there is sneaky little cupboards etc that can be missed or hidden away so always check
PAPERWORK PAPERWORK PAPERWORK this is so important make sure you are issued with the correct paperwork this should include a waste transfer note with the property address on the company name their address the Waste license number that can be checked online at the environment agency website. Make sure you are also issued with a receipt and if you are being charged VAT make sure there is a VAT number on the invoice their is no excuse these days for people not issuing paperwork wether it be straight after the job or via email on completion. cover yourself get the paperwork.
The Martlets is a Hospice in Hove.  Hospices can have a rather morbid reputation but not the Martlets - their ethos is to help people live well.  Not everyone who comes to the Martlets is going to die imminently but can live long and fulfilled lives but need the help of places like the Martlets to do so.  The chief executive, Imelda Glackin is emphasising exactly what the Martlets is all about as they celebrate their 18th birthday.
What does the Martlets offer?
'CARE, COMPASSION AND SUPPORT'
Inpatient care
Day care
Respite
An at home service to care and support people in their own homes
24 home care
Help to live a good and fulfilled life
Support in a variety of ways – physical, medical, emotional, mental etc.
Promotes medical welfare
Doctors, a Consultant, a discharge co-ordinator
Physiotherapists
Freshly made food, made to order on the premises
Hospice Café
Afternoon activities eg. T'ai chi massage and reflexology
Martlets Care Agency (private care service)
In the bright and airy, modern building, a dedicated and devoted team of staff and volunteers work to make sure their patients have everything they need.  It is a long way from the stuffy, regime of a hospital which many of the patients have been subjected to and there is even a resident cat, Misty, who can put a smile on anyones face.
Funding to Keep The Martlets Alive
The Martlets is not part of the NHS so receives a very small amount of government funding.  So in order to survive they need to raise £11,000 per day to raise the £5.4m a year running costs, which includes being able to pay the 225 staff.  To do this, the Martlets have all sorts of fundraising events, including:
A weekly lottery
10 shops
Furniture warehouse
eBay shop (online)
Online book sales
Martlets Midnight Walk
Brighton Marathon
The Martlets and House Clearance
The Martlets offer their own house clearance service where they offer to clear and clean properties of any size and either partially or fully empty and clean the property.  They pack and remove all items which they know are saleable, including white goods, which they are able to sell in their Martlets shops.  Anything which is not saleable is recycled and anything which needs specialist disposal is a chargeable service, such as chemicals or paints.
The cost for this service is dependent on the size of the property in question and whether a full or partial clear and clean has been requested.  All of the profit from the items sold from the house clearances go to the Martlets Hospice itself, so that the incredible staff there can continue to use their "CARE, COMPASSION AND SUPPORT" to provide for their patients for the rest of their lives.
House Clearance Sheffield
If this article has got you thinking about emptying a room in your house, or indeed, if you are moving house, why not contact Clearance and Cleanup.  They are a Yorkshire based company offering House Clearances in Sheffield, House Clearance Barnsley, House Clearance Doncaster and House Clearance Rotherham.  So if you need a reliable House Clearance company, who can work 7 days a week for competitive rates, give us a call on 0114 403 1021 or alternatively email us at [email protected].  We are environmentally friendly, recycle, reuse and work in collaboration with many charity shops.  You never know, clearing out your house could help create the last home for someone else!
Our more practical services involve the more typical lifting and shifting work that you would probably expect of Clearance and Cleanup, however there are many other facilities that we offer aside from large clearance operations. One of the most varied parts of our job is the deep cleaning service. We have undertaken many different jobs, and trust us, every single one is new experience for us. We should note that during deep cleans we have to be extremely careful, as we put ourselves at risk. We deal with hazardous materials regularly, and so take the necessary precautions.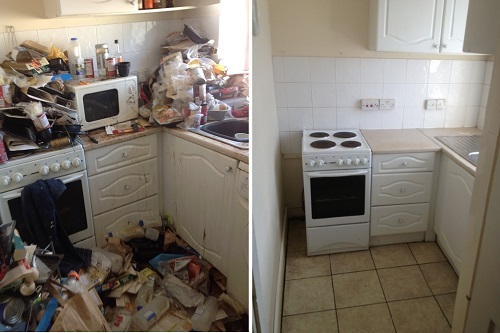 Remaining Professional
There are many reasons as to why a person may need a deep clean of their property, with numerous different objects and substances that need to be cleaned.  We cater for all situations, and remain respectful and professional throughout, despite the fact we are perhaps working under sensitive conditions.
Property Cleaning
Perhaps you're a landlord of a rented property, if so we are able to clean up after messy tenants - Not everybody leaves a house how they found it! This goes for all properties that are void or empty. Factories, offices or residential, we will deep clean after occupiers have left, or if the property has been left vacant for a long time. Cleaning properties used by hoarders also falls under our extreme cleaning category, due to the potentially hazardous nature of the task. An excess of possessions and waste materials can become a breeding ground for rodents and insects, which in turn spreads bacteria. For more information about hoarding, refer to our previous blog post on the subject.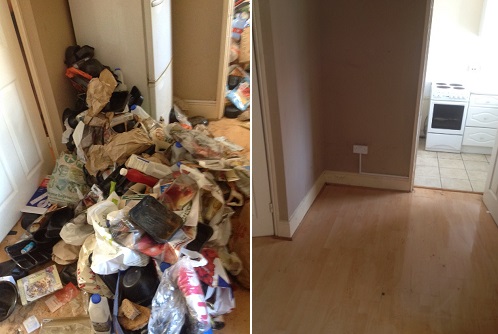 Biological Waste
We are able to clean up biological waste too. Of course, operating with the correct biohazard clothing and equipment, a clean-up of fecal matter from humans and animals is not a problem for the team. We have been called out to toilet blocks, prisons (dirty protests), and cleared public monuments and spaces of animal droppings too.
With extreme cleaning we are regularly required to attend crime or accident scenes. We have worked on traumas, suicides and undiscovered deaths too. We are fully certified and licenced and have the relevant equipment in order for us to be able to carry out our work to the highest standers. What's more, we use environmentally friendly cleaning products exclusively.
Safety First
The priority for us is safety when it comes to deep and extreme cleans. We do everything possible to ensure the safety of our team when executing the work and the state of the property after we've finished, so that it can be used safely again. If you think we may be able to help, then get in touch freephone on 0800 410 1086.
We talk a lot about the importance of checking that your waste removal professionals are fully certified to be handling your waste and will dispose of it in a legal and environmentally friendly way. We've seen a lot of stories in local media in the past few weeks that show exactly why we are so concerned about illegal waste removal.  The welfare of our environment is very important to us, which is why we recycle whenever we can, but we also care about our clients and don't want to see them being ripped off or worse!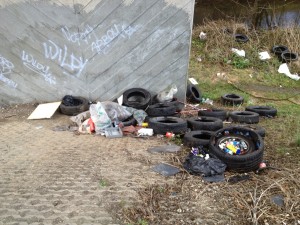 Ask to See a Licence
A man from Soham, Cambridgeshire last week was ordered to pay almost £3,000 in fines and court costs as he was found guilty of profiting from scrap metal and carrying controlled waste without a Waste Carriers Licence. Anybody that transports or sells unwanted scrap metal is required by law to register with the Environmental Agency and purchase a licence which costs around £150 and lasts for 3 years. If you are found handling this type of waste without a licence you are liable for a hefty penalty.

Tipping in Public Spaces
People that offer to take away rubbish for a small price or even for free make their money illegally. The way that this man made money was by selling the metal to scrap yards, however not all individuals can make profit from selling on materials they are offering to remove. If this is the case, often the waste is dumped in public spaces.
In a particularly distressing case, one man found himself at the centre of a flytipping incident involving the possessions of his recently deceased Father. The man gave up the belongings to two people working on behalf of the British Heart Foundation, requesting that they be recycled. The unsaleable items were agreed to be disposed of for £150. The two BHF workers gave the items to an unlicensed individual who then dumped them in a forest. Mr Locker, working for the BHF, has since lost his job working for the charity and was ordered to pay just under £500 in fines for using illegal waste removal services.
"It could be you who ends up in court"
Due to the fact that the unlicensed person could not be traced, it was Mr Locker who was charged as he failed to check for proper documentation. A spokesperson for the local environmental services said:
"This should be a lesson to all residents, there are unscrupulous people out there who will take away your rubbish and dump it illegally […] if they cannot be found and the rubbish is traced back to you, it could be you who ends up in court".
Safe & Legal
It is important to keep in mind the effects that using unlicensed waste carriers can have on the environment, but also the risks that you put yourself under if flytipped waste is traced back to you. ALWAYS ask to see a Waste Carriers Licence to ensure that your rubbish is being handled safely and legally. Clearance and Clean Up are a fully licenced company and are capable of removing any waste you need taking care of. Get in touch if you think we can help!
_____
Sources:
http://www.environment-agency.gov.uk/news/149442.aspx
http://www.bournemouthecho.co.uk/news/10612231.Charity_driver_admits_fly_tipping_offence_after_dead_man_s_items_dumped/
Last week we touched on the occasionally sensitive aspect of our job; something that perhaps isn't always associated with waste removal. When carrying out office removals we quite often have to dispose of confidential files and documents. Then, when performing house clearances there are times when a level of compassion needs to be upheld. In the case of a bereavement, whereby individuals require a property clearing after the passing of a loved one, this is especially important.
Professionalism
Bereavement is always a tough time for a family, and then with added stresses of having to arrange a multitude of services, it is appreciated when we do our job with as little fuss as possible. We always maintain a professional attitude and work hard to move quickly and effectively to help the bereaved as much as we can.
Seeing possessions go out the door can be upsetting too. As we've mentioned in previous blog posts, we try to recycle items where we can but can accommodate most requests for methods of disposal.
Complying with Regulations
We work alongside estate agents to make sure that we only remove the things we're supposed to. Likewise with solicitors, as often there are items that cannot be removed from the property for legal reasons. While our priority is to comply with regulations, another of our main aims is to ensure we are respectful to both people and properties involved.