Playing fields and parks are focal points within communities and are used by lots of people for a variety of reasons. As events are often staged in these public spaces however, littering and rubbish becomes a problem for those that use them afterwards. The issue of littering is one which has been around for a long time and doesn't seem to be going away. Littering shows a complete lack of consideration for other people, and local councils are keen to keep their public spaces clean.
Keep it Clean
In Blackpool, councillors have requested that local football teams using playing fields clean up after they have finished playing, as empty drinks bottles are often left behind. It has been suggested that the team takes black bin liners with them and perform routine walks along the touch lines after the matches have finished collecting rubbish as they go. With such a large number of people it is difficult to keep track of who is disposing of their rubbish properly, so carrying out a large sweep of the area would certainly help to cut down on the amount that is left behind.
Pitch Invasion
The clubs have responded claiming that they do not leave any rubbish behind when they leave the fields. They also say that the team's managers regularly have to clean up before the match due to the broken glass bottles and sharp cans strewn across the pitches. This is of course extremely dangerous for players as any cuts they sustain could lead to a trip to the hospital! Litter isn't just a matter of tidiness; it can also be unsafe for children, animals and those unaware.
Respect
As these public places are shared by everybody, each with a different use, it's important that we consider our neighbours' needs and respect their right to a safe and clean environment. Whether we are playing football, walking dogs or sitting out for a picnic cleaning up after ourselves should be an automatic action. If fairs or outdoor events are being held then a cleanup becomes a much more difficult task. Outside help from specialist companies such as ourselves is a sensible option to make sure all waste is cleared thoroughly and effectively.
______
Source:
Teams Urged to Clean Up | Blackpool Gazette
Sandall Park
We are often called in to properties that have been repossessed to clear the house of the previous occupiers' mess. We were asked not too long ago to carry out some work on a fire damaged property in Barnsley. The work was issued by a national company and had to be carried out in a very short time scale as they themselves were working to a deadline.
Exposed
There were many problems with this property, but the most difficult to contend with was the fact the roof had being taken off following a fire. So despite the house being fire damaged, the whole building was soaked throughout due to being exposed to the elements.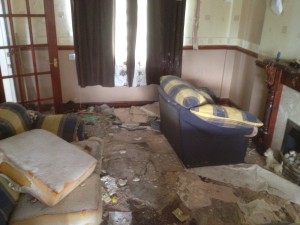 Wet & Heavy
Every room in the upstairs of the house was covered in pieces of the ceiling, which had fallen through. The wet plasterboard had to be removed prior to removing the items of furniture and carpeting which were also soaked, very heavy and filthy from the fire. Naturally, we found moving the heavy, damp plasterboard a bit of a struggle!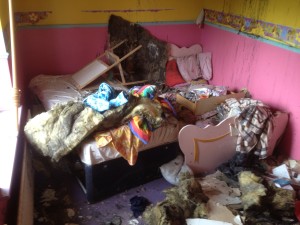 Making the Property Presentable
Once the property was cleared and fully swept through we had to go back and give it a thorough "basic" clean before the property was ready to receive viewings from prospective buyers. The front and back gardens were also very overgrown. Coupled with the fact that they were full of rubble and broken tiles from the damaged roof, this made it hard work cutting back and clearing it. We needed to make sure the gardens were presentable so that people viewing the house could appreciate the size.The job was a tiring and extremely dirty job which needed to be tacked fast. We put in a lot of effort so that we would be finished for the deadline date.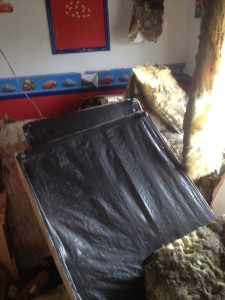 After We Had Finished
Overall the property went from being overgrown, filthy and full of rubbish to a clean and clear space with a nice garden. Of course there was little we could do about the fire damage and roofing situation, however we put the property in a position where it was able to be viewed by the public safely, and so that they could visualize what a completely renovated house might look like.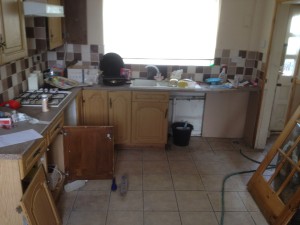 Success!
In total, we cleared away 4 van loads of rubbish, which equates to approximately 5 tonnes! All rubbish was taken to a local waste transfer station and anything that we could recycle was done so appropriately. The work we carried out went a long way to helping the owners in selling. The house was sold on the 1st viewing after we had finished, whereas before, 3 previews viewings wouldn't even go inside! Another success for Clearance and Clean Up! If we can help with your clearance and removal needs, drop us a line. Find out how on our contact page.

We talk a lot about the importance of checking that your waste removal professionals are fully certified to be handling your waste and will dispose of it in a legal and environmentally friendly way. We've seen a lot of stories in local media in the past few weeks that show exactly why we are so concerned about illegal waste removal.  The welfare of our environment is very important to us, which is why we recycle whenever we can, but we also care about our clients and don't want to see them being ripped off or worse!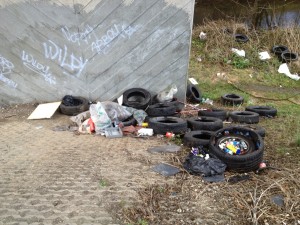 Ask to See a Licence
A man from Soham, Cambridgeshire last week was ordered to pay almost £3,000 in fines and court costs as he was found guilty of profiting from scrap metal and carrying controlled waste without a Waste Carriers Licence. Anybody that transports or sells unwanted scrap metal is required by law to register with the Environmental Agency and purchase a licence which costs around £150 and lasts for 3 years. If you are found handling this type of waste without a licence you are liable for a hefty penalty.

Tipping in Public Spaces
People that offer to take away rubbish for a small price or even for free make their money illegally. The way that this man made money was by selling the metal to scrap yards, however not all individuals can make profit from selling on materials they are offering to remove. If this is the case, often the waste is dumped in public spaces.
In a particularly distressing case, one man found himself at the centre of a flytipping incident involving the possessions of his recently deceased Father. The man gave up the belongings to two people working on behalf of the British Heart Foundation, requesting that they be recycled. The unsaleable items were agreed to be disposed of for £150. The two BHF workers gave the items to an unlicensed individual who then dumped them in a forest. Mr Locker, working for the BHF, has since lost his job working for the charity and was ordered to pay just under £500 in fines for using illegal waste removal services.
"It could be you who ends up in court"
Due to the fact that the unlicensed person could not be traced, it was Mr Locker who was charged as he failed to check for proper documentation. A spokesperson for the local environmental services said:
"This should be a lesson to all residents, there are unscrupulous people out there who will take away your rubbish and dump it illegally […] if they cannot be found and the rubbish is traced back to you, it could be you who ends up in court".
Safe & Legal
It is important to keep in mind the effects that using unlicensed waste carriers can have on the environment, but also the risks that you put yourself under if flytipped waste is traced back to you. ALWAYS ask to see a Waste Carriers Licence to ensure that your rubbish is being handled safely and legally. Clearance and Clean Up are a fully licenced company and are capable of removing any waste you need taking care of. Get in touch if you think we can help!
_____
Sources:
http://www.environment-agency.gov.uk/news/149442.aspx
http://www.bournemouthecho.co.uk/news/10612231.Charity_driver_admits_fly_tipping_offence_after_dead_man_s_items_dumped/
This week on our travels we headed over to Goole in East Yorkshire to carry out a loft clearance, however it wasn't quite as simple as we first expected it to be! We encountered a fair few problems that turned tasks which should have been relatively simple, into a carefully considered removal.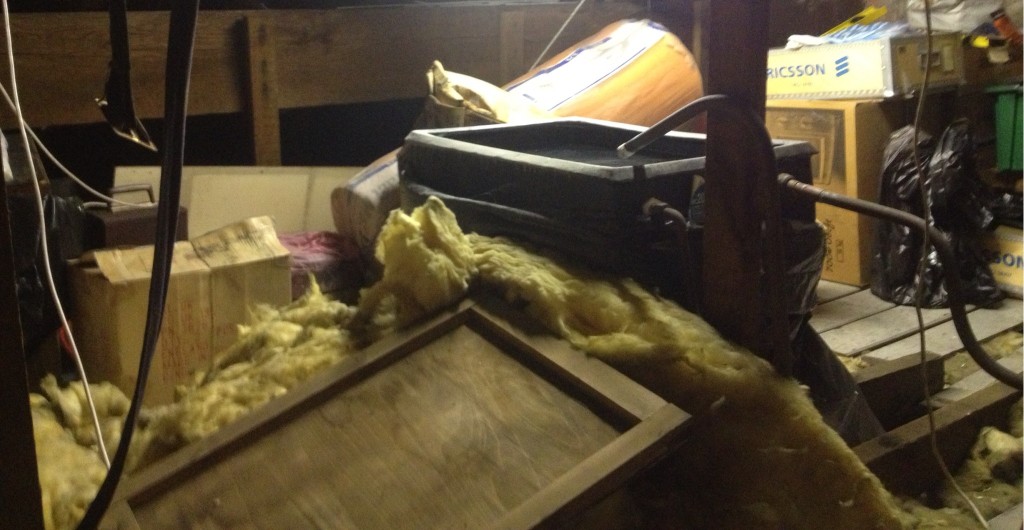 Limited Access
First of all, to actually access the loft we had to set up step ladders. This helped us to get up there, but carrying heavy objects out became quite treacherous! There wasn't much room to manoeuvre them through the hatch, and passing them down the step ladder required plenty of caution.
In the loft itself, there was very little room to stand as the ceiling was so low -we had to operate whilst crouching. We also had to provide our own lighting, using torches and electric lanterns as there was no main source of light installed in the loft.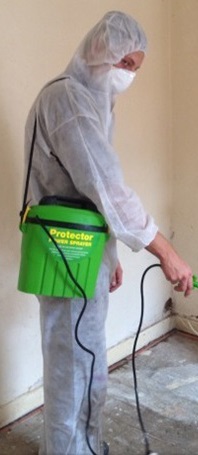 Preventing Accidents
This particular space did not have a stable floor to walk on; just wooden beams. We had to lay big wooden walk boards on top so we could move around easily to reduce the risk of slipping, harming ourselves and damaging the loft. Special equipment and clothing is needed, such as overall white suits to stop itching from insulating material. We also wear dust masks, as there can be lots of irritating and potentially harmful dust particles that can easily be inhaled.
Careful Planning
Loft clearances need plenty of planning, but not just in terms of logistics. We have to pre-plan the order in which we take things out so we can maximise the amount we recycle, and make it easier for ourselves when organising materials. We take the items down in recyclable category so that it becomes simpler to partition.
Loft clearances are part of most house clearances prior to selling or returning to the local authority. Before properties can be sold on or re-purposed, they require thorough cleaning and all objects and possessions to be removed. That's where we come in!
 If you have a property in need of a clearance you can get in touch Freephone on 0800 410 1086 or email us at [email protected]
It's perhaps a natural assumption that you can send your old and unused electrical and electronic goods to a landfill site, however it is actually illegal to do this. Waste electrical and electronic equipment (WEEE) is harmful to the environment and if not disposed of correctly can potentially release harmful toxins. Due to the guidelines listed in the WEEE Directive and other such schemes a certain amount of electrical and electronic appliances must be recycled or reused each year. Manufacturers and distributors have responsibilities for arranging disposal of goods no longer in use, but users have a responsibility for their own waste too.
When should you Arrange a Collection?

If you see this image anywhere on your equipment, then you should not send it to landfill, instead arrange for collection or proper disposal. The black bar at the bottom of the image shows that the equipment has been manufactured after August 2005 when the WEEE directive was first established. The initiatives put in place regarding correct EEE waste disposal are excellent  as they encourage manufacturers to make it easier for consumers to recycle or discard old EEE.
There are lots of different materials involved in electrical equipment such as glass, metal, plastics etc. The list of hazardous metals and materials is also long (for example arsenic, cadmium, lead and mercury can all be found in household appliances) and it is for this reason that WEEE removal is a specialist service.
What we can Do for You
Clearance and Clean Up offer a fully WEEE compliant collection service. We collect, dispose and where possible, recycle all of your electrical/electronic waste. We are certified to take away almost anything that you need removing, but here is a list of EEE that we regularly remove on behalf of our clients:
Computers and tower network systems
LCD Plasma and CRT monitors
Games consoles
Alarm systems and equipment
CCTV and security equipment
Lighting, including flourescent tubes
Any IT equipment, domestic or industrial
Washing machines, cookers and fridges, domestic or industrial
Air conditioning, domestic or industrial
If you are unsure whether or not we are able to take your appliances, don't hesitate to get in touch. We most likely can help you out!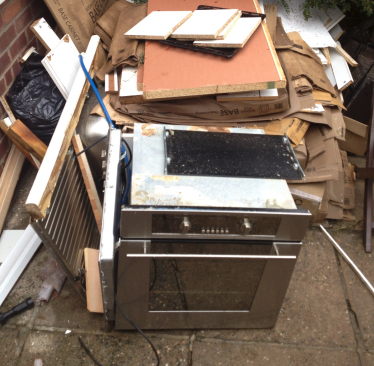 Our complete service includes:
Collection and processing of all business, shop, commercial or domestic WEEE
Consignment notes (where needed)
Processing of WEEE
Disintegration to base metals
Re-use of base metals, once sorted
Re-use of IT equipment where possible
After a tentative start, I think it's fair to say that summer has officially arrived. Those of us landlocked in west and south Yorkshire will no doubt be making a few trips to the seaside over the coming weeks, but a recent story caught our eye that we thought important to share with you.
Mess on the Beach
As you're out and about it's important to think about what you're going to do with your litter. The aftermath of the sunniest weekend of the year resulted in tonnes of litter strewn across beaches up and down the country with Brighton beach (a notoriously busy beach) suffering particularly badly.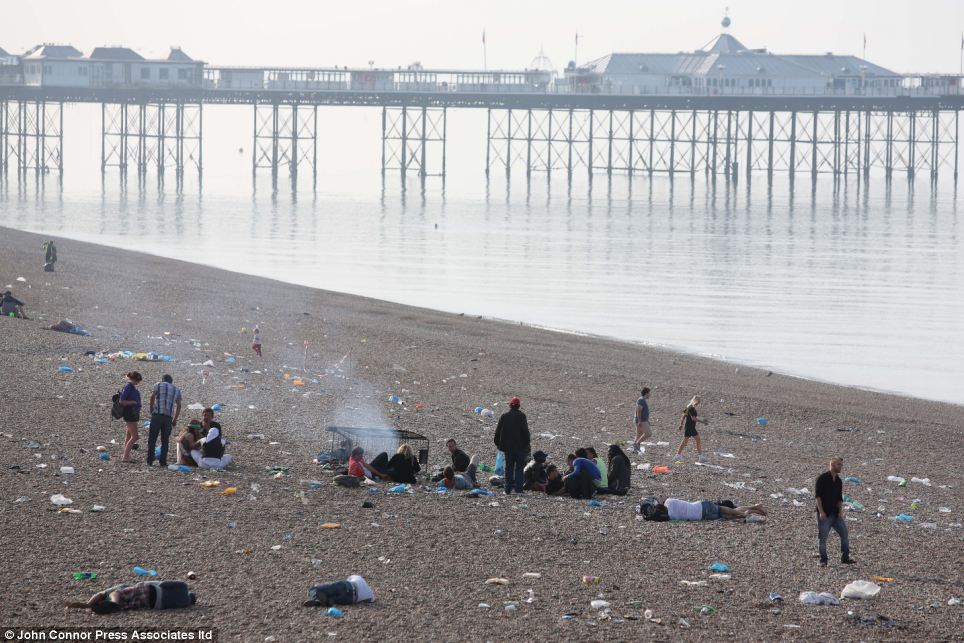 (image credit: The Mail)
Unsightly & Dangerous
Thousands of people enjoying the sun flocked to the coasts to cool off in the sea, however locals didn't have quite as much fun when they saw the carnage left behind by tourists. It's only when you see the mess left on the beach that you realise just how unsightly, annoying and potentially hazardous it can be. If any of that rubbish finds its way into the sea, it could be dangerous to the sea life. It takes no effort to take a designated carrier bag along with you to easily transport your waste with you as you leave.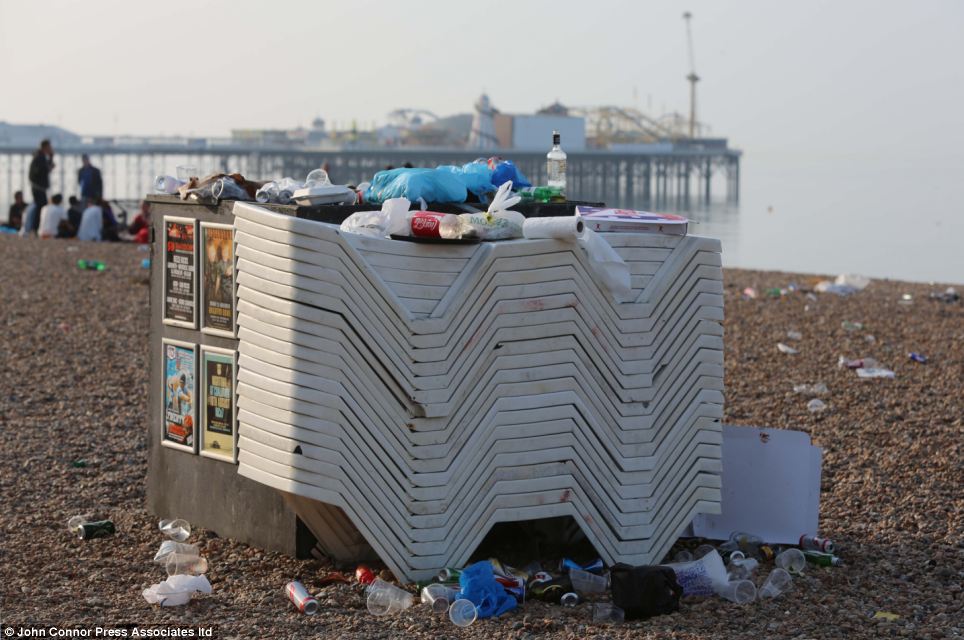 (Image credit: The Mail)
Refuse Strikes
Speaking of Brighton, as a city they're having a tough time dealing with waste removal at the moment as many of their refuse collectors are striking for a second time over disputes about pay. Household waste collection and street cleaning will cease for a week as staff are unhappy that their wages will be cut by an average of £1,000 per year. In some cases this could be as much as £4,000.
Volunteers to Help
The litter left on beaches may be left to volunteers to clean, as the local newspaper has called for help. Last year around 60 volunteers helped to clear up the famous beach, and with refuse collectors on strike it may be left solely the generosity and hard work of locals that the area is kept tidy. We'd come and give you a hand guys, but we've got our hands full up in Yorkshire! We do offer a litter picking service though, so if you're a little closer to home and you have any public or private spaces that require cleaning, don't hesitate to get in touch!
----
Sources:
http://www.theargus.co.uk/news/10548062.Brighton_and_Hove_beaches_left_in_a_mess_after_hot_weekend/
http://www.brightonandhovenews.org/2013/06/18/brighton-and-hove-binmen-to-strike-again-next-week/21956
http://www.dailymail.co.uk/news/article-2362875/UK-Weather-Blazing-temperatures-school-holidays-Britain-continues-sizzle-week-hottest-far.html
Last week we touched on the occasionally sensitive aspect of our job; something that perhaps isn't always associated with waste removal. When carrying out office removals we quite often have to dispose of confidential files and documents. Then, when performing house clearances there are times when a level of compassion needs to be upheld. In the case of a bereavement, whereby individuals require a property clearing after the passing of a loved one, this is especially important.
Professionalism
Bereavement is always a tough time for a family, and then with added stresses of having to arrange a multitude of services, it is appreciated when we do our job with as little fuss as possible. We always maintain a professional attitude and work hard to move quickly and effectively to help the bereaved as much as we can.
Seeing possessions go out the door can be upsetting too. As we've mentioned in previous blog posts, we try to recycle items where we can but can accommodate most requests for methods of disposal.
Complying with Regulations
We work alongside estate agents to make sure that we only remove the things we're supposed to. Likewise with solicitors, as often there are items that cannot be removed from the property for legal reasons. While our priority is to comply with regulations, another of our main aims is to ensure we are respectful to both people and properties involved.
This week we completed an office clearance in Sheffield, just by the Peace Gardens in the City centre. Office clearances are different in many ways to residential call-outs. Obviously all clearances are different, but the majority of items in an office can be reused which means hardly anything gets thrown away.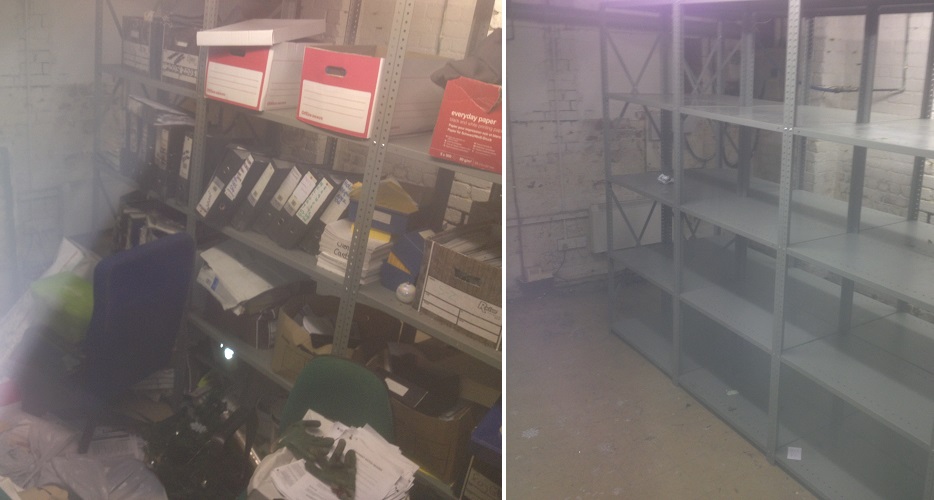 Charity Donations and Recycling
Usually there will be large items like chairs and desks that, for the most part, can be donated to charity. We work closely with lots of charity outlets, so anything that can be reused goes to them. If there are broken items, we will recycle them so that they can be remade into something useful. Our aim is to send as little to landfill as possible.
Safe Electrical Clearances
There are then objects like Computers and fridges that need to be disposed of in a safe and legal way. Our office clearance team is fully compliant with the waste electrical directive, so you can be sure we will handle electricals professionally and of course, you will be issued with the relevant documentation to prove this.
Confidential Document Removal
Finally there may be documents, sometimes confidential, that require disposing of in a sensitive manner. Although not quite the standard lifting and shifting we're used to, we are more than able to handle special requests like this.
If you are in need of an office clearance, just get in touch on 0800 410 1086 or email [email protected]. We are equipped to deal with all eventualities and we offer 30 day payment terms on any work we carry out.