We've all heard the expression "looks like a building site" said when a place looks messy, and for good reason. Building and construction sites are messy places and produce a lot of waste. With all the rubbish and waste materials left behind during construction, it is often difficult to manage and dispose of correctly. Did you know, for example, that an average sized 3 bedroomed house produces approximately 13 tonnes of waste? It isn't surprising that sometimes building firms attempt to cut costs by getting rid of their rubbish illegally.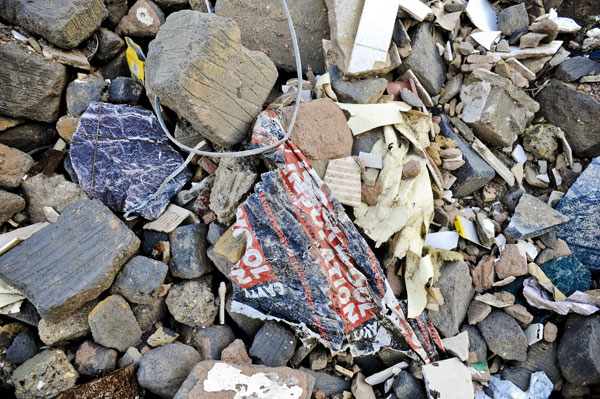 Danger to the Environment
A farmer in Devon has recently been ordered to pay £6,000 in fines and court costs after he had dumped over 50 tonnes of rubbish close to a stream. The man had buried the waste underground after initially being prosecuted for tipping and burning materials on the land. He was ordered to remove the waste however was found to have buried items such as stone, construction rubble, asbestos roofing sheets and electrical goods. They were left next to a stream and close to wildlife meaning that pollution could have damaged the local environment.
Dumped Asbestos
In a similar story, asbestos piping and guttering was tipped in Spalding, Lincolnshire leaving the council (and of course taxpayers) with a £450 bill. It is unclear as to who the culprit is; it is possible that it could be vandals, or perhaps builders looking to offload the piping quickly and cheaply. Either way, it is dangerous and costly to the rest of the community.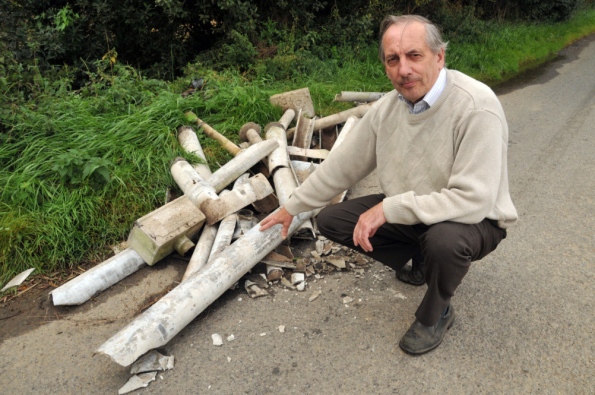 Qualified and Knowledgeable
Clearance and Cleanup are fully licenced and able to remove any construction waste you may have. Likewise, if the waste has already been left or dumped in a public space we can remove that too. We are qualified and knowledgeable when it comes to handling asbestos, so don't risk a large fine if you are struggling to dispose of large quantities of rubbish. Visit our contact page to see how you can get in touch.
_______
Sources:
Farmer Fined for Dumping Waste | North Devon Gazette
Experts Called in to Clear Dumped Asbestos | Spalding Today
We are often called in to properties that have been repossessed to clear the house of the previous occupiers' mess. We were asked not too long ago to carry out some work on a fire damaged property in Barnsley. The work was issued by a national company and had to be carried out in a very short time scale as they themselves were working to a deadline.
Exposed
There were many problems with this property, but the most difficult to contend with was the fact the roof had being taken off following a fire. So despite the house being fire damaged, the whole building was soaked throughout due to being exposed to the elements.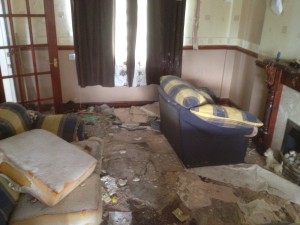 Wet & Heavy
Every room in the upstairs of the house was covered in pieces of the ceiling, which had fallen through. The wet plasterboard had to be removed prior to removing the items of furniture and carpeting which were also soaked, very heavy and filthy from the fire. Naturally, we found moving the heavy, damp plasterboard a bit of a struggle!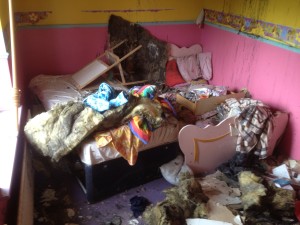 Making the Property Presentable
Once the property was cleared and fully swept through we had to go back and give it a thorough "basic" clean before the property was ready to receive viewings from prospective buyers. The front and back gardens were also very overgrown. Coupled with the fact that they were full of rubble and broken tiles from the damaged roof, this made it hard work cutting back and clearing it. We needed to make sure the gardens were presentable so that people viewing the house could appreciate the size.The job was a tiring and extremely dirty job which needed to be tacked fast. We put in a lot of effort so that we would be finished for the deadline date.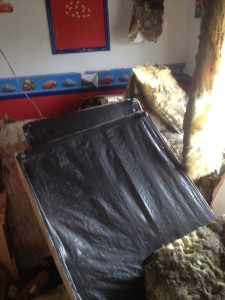 After We Had Finished
Overall the property went from being overgrown, filthy and full of rubbish to a clean and clear space with a nice garden. Of course there was little we could do about the fire damage and roofing situation, however we put the property in a position where it was able to be viewed by the public safely, and so that they could visualize what a completely renovated house might look like.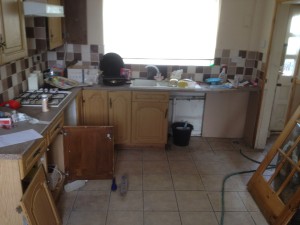 Success!
In total, we cleared away 4 van loads of rubbish, which equates to approximately 5 tonnes! All rubbish was taken to a local waste transfer station and anything that we could recycle was done so appropriately. The work we carried out went a long way to helping the owners in selling. The house was sold on the 1st viewing after we had finished, whereas before, 3 previews viewings wouldn't even go inside! Another success for Clearance and Clean Up! If we can help with your clearance and removal needs, drop us a line. Find out how on our contact page.

We talk a lot about the importance of checking that your waste removal professionals are fully certified to be handling your waste and will dispose of it in a legal and environmentally friendly way. We've seen a lot of stories in local media in the past few weeks that show exactly why we are so concerned about illegal waste removal.  The welfare of our environment is very important to us, which is why we recycle whenever we can, but we also care about our clients and don't want to see them being ripped off or worse!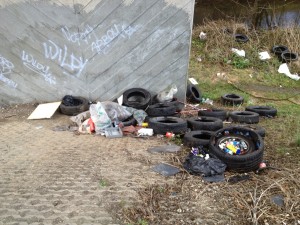 Ask to See a Licence
A man from Soham, Cambridgeshire last week was ordered to pay almost £3,000 in fines and court costs as he was found guilty of profiting from scrap metal and carrying controlled waste without a Waste Carriers Licence. Anybody that transports or sells unwanted scrap metal is required by law to register with the Environmental Agency and purchase a licence which costs around £150 and lasts for 3 years. If you are found handling this type of waste without a licence you are liable for a hefty penalty.

Tipping in Public Spaces
People that offer to take away rubbish for a small price or even for free make their money illegally. The way that this man made money was by selling the metal to scrap yards, however not all individuals can make profit from selling on materials they are offering to remove. If this is the case, often the waste is dumped in public spaces.
In a particularly distressing case, one man found himself at the centre of a flytipping incident involving the possessions of his recently deceased Father. The man gave up the belongings to two people working on behalf of the British Heart Foundation, requesting that they be recycled. The unsaleable items were agreed to be disposed of for £150. The two BHF workers gave the items to an unlicensed individual who then dumped them in a forest. Mr Locker, working for the BHF, has since lost his job working for the charity and was ordered to pay just under £500 in fines for using illegal waste removal services.
"It could be you who ends up in court"
Due to the fact that the unlicensed person could not be traced, it was Mr Locker who was charged as he failed to check for proper documentation. A spokesperson for the local environmental services said:
"This should be a lesson to all residents, there are unscrupulous people out there who will take away your rubbish and dump it illegally […] if they cannot be found and the rubbish is traced back to you, it could be you who ends up in court".
Safe & Legal
It is important to keep in mind the effects that using unlicensed waste carriers can have on the environment, but also the risks that you put yourself under if flytipped waste is traced back to you. ALWAYS ask to see a Waste Carriers Licence to ensure that your rubbish is being handled safely and legally. Clearance and Clean Up are a fully licenced company and are capable of removing any waste you need taking care of. Get in touch if you think we can help!
_____
Sources:
http://www.environment-agency.gov.uk/news/149442.aspx
http://www.bournemouthecho.co.uk/news/10612231.Charity_driver_admits_fly_tipping_offence_after_dead_man_s_items_dumped/
It's perhaps a natural assumption that you can send your old and unused electrical and electronic goods to a landfill site, however it is actually illegal to do this. Waste electrical and electronic equipment (WEEE) is harmful to the environment and if not disposed of correctly can potentially release harmful toxins. Due to the guidelines listed in the WEEE Directive and other such schemes a certain amount of electrical and electronic appliances must be recycled or reused each year. Manufacturers and distributors have responsibilities for arranging disposal of goods no longer in use, but users have a responsibility for their own waste too.
When should you Arrange a Collection?

If you see this image anywhere on your equipment, then you should not send it to landfill, instead arrange for collection or proper disposal. The black bar at the bottom of the image shows that the equipment has been manufactured after August 2005 when the WEEE directive was first established. The initiatives put in place regarding correct EEE waste disposal are excellent  as they encourage manufacturers to make it easier for consumers to recycle or discard old EEE.
There are lots of different materials involved in electrical equipment such as glass, metal, plastics etc. The list of hazardous metals and materials is also long (for example arsenic, cadmium, lead and mercury can all be found in household appliances) and it is for this reason that WEEE removal is a specialist service.
What we can Do for You
Clearance and Clean Up offer a fully WEEE compliant collection service. We collect, dispose and where possible, recycle all of your electrical/electronic waste. We are certified to take away almost anything that you need removing, but here is a list of EEE that we regularly remove on behalf of our clients:
Computers and tower network systems
LCD Plasma and CRT monitors
Games consoles
Alarm systems and equipment
CCTV and security equipment
Lighting, including flourescent tubes
Any IT equipment, domestic or industrial
Washing machines, cookers and fridges, domestic or industrial
Air conditioning, domestic or industrial
If you are unsure whether or not we are able to take your appliances, don't hesitate to get in touch. We most likely can help you out!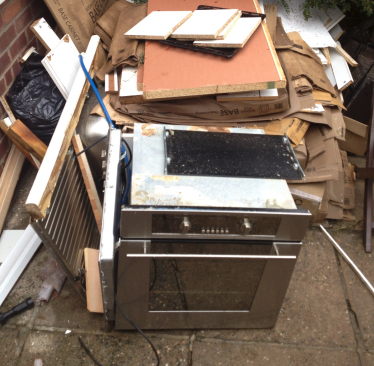 Our complete service includes:
Collection and processing of all business, shop, commercial or domestic WEEE
Consignment notes (where needed)
Processing of WEEE
Disintegration to base metals
Re-use of base metals, once sorted
Re-use of IT equipment where possible
One of the more dangerous aspects to our work is our needles and sharps removal service. Often found discarded in public places, they can pose a serious threat not only to wildlife, but also children and unsuspecting adults. It is extremely unsafe for you to go near such items, let alone attempt to clear them yourself. We are trained and certified in handling hazardous waste, so let us explain why our service is so important.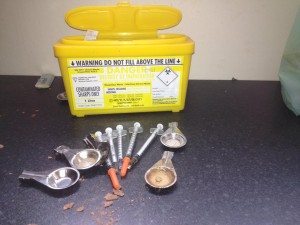 Careful Process
If we suspect that a property or area that we are working on contains sharp objects or needles, we will survey the surroundings before we start work. This enables us to prepare ourselves with the correct attire and equipment in advance. We will then proceed with caution as we remove all unsafe items.  We sterilise and fumigate the affected location after we have cleared the site in order to make it safe for occupation. All needles/sharps/medical wastes are destroyed legally and safely at licensed stations.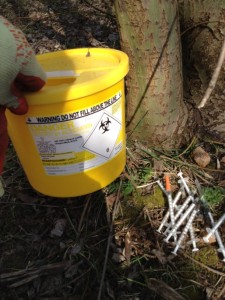 Safe Disposal
All of our work is carried out with the highest of care and attention, and we operate under strict and structured guidelines to ensure that objects are not only removed carefully, but disposed of in a safe and sanitary manner. Our team is fully trained and able to carry out their jobs at the highest level of safety and to the best standard possible.  We will provide official documents as proof of disposal and all of our work is completely transparent.
Reasonable Pricing
Due to the hazardous nature of removing needles and sharps, many companies will charge extortionate prices to cover the risks involved. Clearance and Clean Up recognise how vital it is for dangerous paraphernalia to be removed quickly, and we aim to make it as affordable as possible to return safety to public places. The removal and disposal of needles and sharps starts at £85.00 and we operate in the Yorkshire area. This picture was taken at a recent clearance in Bentley – the needles had been thrown from a public walkway into a car park: