House clearance Sheffield advice by Tom Pickering the owner of South Yorkshire largest on demand rubbish removal and property clearance company and I'm going to give you my top 10 tips to make your clearance go as smoothly as possible and save you both time and money on the process.
Take anything you are keeping out of the property or at very least put in 1 room in the corner and label do not remove this will save the clearance company time trying to decide what is staying and what is going and avoids any confusion.
This isn't a must but will save time and ultimatly save you money empty and bag up the kitchen cupboards or at the very least take the items out and put on the kitchen side this will save the clearance company time.
Empty and bag up clothes again not a must but will save time and you money also gives you a chance to make sure you haven't missed anything of value.
Get a charity round this good for a few reasons you are donating items and a bonus is the more they take for free the less the house clearance company
will charge as most companies price based on volume and time on site but don't be disopointed when they take very little charities are inundated with stock and can be picky.
When phoning to book your clearance have as much detail as possible to include , List of the large items cooker beds etc, Any access issues narrow lane etc , Details about basements or garages the better the detail the more accurate the price will be.
Knowing whats required by this I mean house clearances can be done for many reason and the properties can be of any type weather its privately owned housing association council etc they all have different standards they want them back in so for instance if its privately owned is it going up for sale does it need cleaning and making presentable. If its a council house are the carpets to come up do the lights need changing back to standard fitments their is many questions to ask just cover your self by asking them what standard do you want the property to be handed over in.
Time slots for booking your clearance this will all depend on the size of your clearance and the company will advise but I would recommend the first slot in the morning as this is normally more reliable as if they have jobs before you they could run over making them late to yours.
Let the clearance company do their job once they are on site have a chat with them and leave them to it specially if its a full clearance and you have removed your items of value they will work faster ultimately saving you money if their was any problems they would have your number.
On completion of the clearance walk round the property with a member of the clearance team making sure nothing has being missed sometime there is sneaky little cupboards etc that can be missed or hidden away so always check
PAPERWORK PAPERWORK PAPERWORK this is so important make sure you are issued with the correct paperwork this should include a waste transfer note with the property address on the company name their address the Waste license number that can be checked online at the environment agency website. Make sure you are also issued with a receipt and if you are being charged VAT make sure there is a VAT number on the invoice their is no excuse these days for people not issuing paperwork wether it be straight after the job or via email on completion. cover yourself get the paperwork.

House clearances are occurring every day across Britain and are often rather stressful.  But sometimes, just sometimes, one comes across something one never expected to find, which is exactly what happened for a Northern house clearance company.
A recent house clearance occurred in Newcastle, where a letter was discovered.  It was later noted that it was a letter from famous footballer, George Best's father, R Best.  In the letter, R Best, refers to an article which clearly showed George, his promotion, his football career, his love for the sport and his great ability for the game.  This 52 year old letter was written to a Mr Doury and has a Belfast post mark.
House Clearance Help
If you are in need of help regarding a house clearance then why not get in touch with Clearance and Clean Up because we can help you!   We can clear a room or an entire house – whichever you need!  Thus, taking all of the hard work and stress out of leaving a house and we will even clean it for you, too, because…well, we are nice like that!  There's no need to panic and there's no heavy lifting for you to do, so why not give us a call.
[/div]
House Clearance and Clean Up
Clearance and Clean Up serve hundreds of individuals, companies and organisation throughout Yorkshire.  These include Clearance and Clean Up Leeds, Clearance and Clean Up Sheffield and Clearance and Clear Up Rotherham.  We hold all of the required insurance licenses and training which are available and we aim to be as environmentally friendly as possible.  We recycle and reuse as many collected items as possible and use eco-friendly cleaning products, as well.  So, if you need house clearance help, why don't you get in touch with us today, at Clearance and Clean Up.  We offer competitive rates, are 100% reliable and work 7 days a week so that we are at hand to help you whenever you need us.  Contact Clearance and Clean Up today on 0800 410 1086 or 0114 403 1021 or alternatively you can email us at [email protected]
[/div]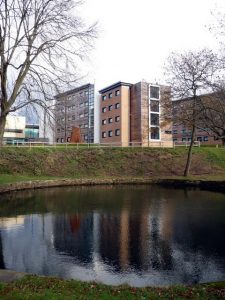 A recent article on the website of a national newspaper caught our eye recently; a flat in Sheffield University's Endcliffe Student Village has been named the most disgusting student flat in Britain. According to the article, 2C in the Froggatt Apartments at Endcliffe Village contains an indoor compost heap, empty beer cans, piles of rubbish, and a stolen traffic cone.
As experts in rubbish removal and house clearance Sheffield, Clearance and Clean Up see a great many flats and houses in need of a good clear out and clean, but we can't say we've ever come across an indoor compost heap before! But students are notorious for being untidy and living in unsanitary conditions, to the point where it has become an ingrained cultural joke.
The images show a communal kitchen area strewn with week's worth of dirty cooking equipment and utensils, empty bottles and left over, decaying food. The living room is littered with empty bottles of wine, beer cans, glasses and mugs, as well as playing cards – apparent evidence of drinking games before their nights out at the student union. However, they do have a large plasma screen TV, which sits on top of an empty beer keg.
Last 2 Communal Area Inspections Failed
One resident of the flat defended the mess by saying that the stacks of filthy cutlery and plates that have been turned into ashtrays 'adds character', while another admitted the only time the sink has been emptied was when someone urinated in it.  It's got so bad that even the cleaner refuses to enter the kitchen, calling it "a disgrace". According to the article, the flat has failed its last 2 communal area inspections.
The University of Sheffield has an excellent reputation for its student flats, with the newly built Endcliffe Village housing more than 3,000 of the university's students in a complex of flats and apartment buildings. An en suite single room in one of the flats in the Froggatt building costs students £5,294.94 for 42 weeks of the academic year.
House Clearance in Sheffield, Doncaster, Rotherham, Worksop and Chesterfield
Clearance and Clean Up have cleared many houses and flats over the years, including some that are much worse than this example! If you need a house clearance Sheffield, or are looking for the best way to dispose of rubbish or unwanted items, Clearance and Clean Up can help. We carry out full and part house clearances, and rubbish removal services, and are able to take away single items or multiple truck loads.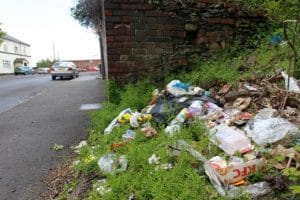 House clearance Sheffield services Clearance and Clean Up read an article in The Sheffield Star recently regarding rubbish problems in the city. The newspaper has recently reported on the rubbish strewn streets of a troubled Sheffield estate. The Page Hall estate has been plagued by serious litter problems in recent weeks, and extra staff have had to be drafted in to tackle the problems of fly tipping, litter and rubbish in the area.
According to the article, the residents of the estate are fed up and worried about the state of the streets, and fear that the workers brought in to sort the problem out are only 'fire fighting', rather than making a long term difference to the condition of the area.
Educating Residents About the Correct Disposal of Rubbish
As experts in rubbish removal and house clearance in Sheffield, it's a real shame to see areas such as this suffering due to fly tipping and littering. Sadly, littering is a common problem in many areas and simply tidying up after people doesn't address the root cause of the problem. Educating residents about the correct disposal of rubbish and litter is incredibly important, and learning about the effect of the littering on the community is important too.
According to the newspaper, the area has suffered since an influx of Roma Slovak families moved in to the area, and the way that they live has had a serious impact on the residents who have lived on the estate for years. Although the council is trying hard to make sure that educational work is taking place, the problem will not be solved 'overnight'.
"An Absolute Disgrace"
A resident of the area said that council staff cleared up a littered area of Hinde Street recently, but that just a day later the area had been fly-tipped with the contents of a skip, graffiti had been scrawled on the walls and a black bag of rubbish had been dumped. The resident said "This is an absolute disgrace to wake up to. When is the enough-is-enough mindset going to come to the forefront and let the tired, stressed folk here have a bit of peace, quiet and cleanliness."
Nick Chaplin, environmental protection manager said: "If there is an occasion where we can just make contact with residents and talk to them about what we expect in terms of not dropping litter, and teaching their children not to do that, we will do so."
Rubbish Removal and House Clearance Sheffield, Doncaster, Rotherham, Worksop and Chesterfield
As providers of rubbish removal and house clearance Sheffield, Doncaster, Rotherham, Worksop and Chesterfield, we make sure that any items that can be recycled or reused are donated to charities with which we have strong links. If you would like to receive a quote for house clearance in Sheffield, please call us on 0114 403 1021 or email [email protected]
The O2 phone shop on Fargate in Sheffield city centre has been accused of leaving huge piles of rubbish behind their shop, adding to the litter problem in the city. A pile of waste has built up in recent weeks, leading to problems with vermin and the spread of rubbish throughout the street. The Sheffield Star has reported that John White, who works at Cutlers' Hall in the city centre said: "This rubbish has been lying around for a few weeks. You would think this sort of behaviour would be stamped on quickly."
Misunderstanding between Waste Company and Landlord
A spokesman from 02 has responded to the complaint and admitted that they were responsible for the rubbish. John Mailey from 02 said "Unfortunately, there was a misunderstanding between the waste company and the landlord, who manages the collection of waste from our shop, resulting in a missed collection. The problem has been resolved and the waste cleared. We apologise if this may have caused any inconvenience."
As house clearance Sheffield experts, Clearance and Clean Up have noticed that Sheffield city centre has been plagued by unwanted waste and rubbish recently, most of which lies around for weeks before it is removed. There has also been an issue with the homeless ripping open the bin bags in their search for food and valuables, therefore spreading the rubbish around further.
A Nation of Litter Bugs
Unfortunately, litter is a problem all over the UK. According to a recent survey by Keep Britain Tidy, almost two thirds of us are litter bugs. However, only 28% are actually willing to admit that they drop their rubbish. A massive £1bn a year is spent on collecting litter in England alone, and the survey expressed particular concern over the amount of littler created by cigarettes, fast food, soft drinks, sweet and chocolate bar wrappers and crisps packets.
Keep Britain Tidy
Keep Britain Tidy was created 60 years ago, and wants more government action on litter instead of leaving it to local authorities. Some councils hand out hundreds of fines a year for littering, while others tread more carefully because of negative publicity. More than 63,000 fines were handed out in councils in England in 2012.
Fly Tipping and Rubbish Removal Sheffield
Here at Clearance and Clean Up, we dispose of waste correctly, including recycling as much as we can. All of our prices include labour and disposal fee, there are no hidden charges, and you can rest assured that your waste goes to a proper licensed disposal facility. For fly tipping, rubbish removal , and house clearance Sheffield ,Doncaster, Rotherham and Barnsley, please contact Clearance and Clean Up on 0800 410 1086 or 0114 403 1021, or email us on [email protected]
Now that Halloween and Bonfire night are over and done with for another year, many people's attention is turning to Christmas. There's just so much to think about at this time of the year; food, presents, decorations, and in many people's case, house guests.
Millions of families across the country will be welcoming friends, neighbours and family members into their home over the festive season. Of course, everyone wants their guests to be comfortable, but with several extra people in your home, things can start to feel a little crowded! Having a home that is clean and welcoming is of the upmost importance over Christmas, and there are several things that you can do, starting now, to ensure that you and your home are fully prepared for the festivities.
De-Cluttering Your Home in Time for Christmas
November is a good time to think about each room in your house and decide if there is any way that you could make it less cluttered. You might have unused pieces of furniture that are never used but you feel that you should hang on to, ornaments that do nothing to improve the style of your home, or soft furnishings that have seen better days.
Now is a great time to think about letting go of the things that you do not use, do not like, or do not add any beauty or function to your home. When your guests arrive in a couple of months time, trust us, you'll be glad you removed the clutter to make way for the festivities!
How to Get Rid of Your Junk
Once you have selected the items that you feel you do not need and would like to get rid of, there are several options that you can choose from to dispose of them. Ebay is a great place to start; and by listing smaller items on auction sites such as these, you could even make a few pounds that you could put towards Christmas presents. For larger items that can't be posted, Ebay allows you to offer sold items as pick up only too.
Your local charity shop will no doubt be very grateful to receive items that they can sell. It's always nice to know that your junk could become someone else's treasure, making much needed cash for a charity in the process.
Consider a House Clearance Company in Sheffield
Alternatively, you could consider hiring a house clearance company in Sheffield, Rotherham, Doncaster or Barnsley to do the lifting and shifting for you. They'll also do their best to ensure that as many items as possible are reused or recycled, meaning that you can rest assured that you won't be unnecessarily contributing to landfill sites.
If you are thinking of de-cluttering your home in time for Christmas, Clearance and Clean Up house clearance services in Sheffield, Doncaster, Rotherham and Barnsley can help. Call us on 0114 403 1021 or email [email protected] to see how we could help you.