Skip hire Sheffield Pro V Cons  Tom Pickering of Clearance And Clean Up Ltd South Yorkshire's largest rubbish removal and property clearance company.
Today I would like to talk to you guys about theSkip Hire Sheffield pros and cons of hiring a skip. The general thought when it comes to skip hire is that whenever you want to get rid of any rubbish weather it's building waste household waste or any other type of Waste people automatically people presume that a skip is the way forward. In some instances this can be correct skips come in very handy when it comes to heavy waste such as soil brick plaster and any other waste which is extremely heavy and dense.
Skips can also be very useful when you are doing multiple jobs at different times so for instance if you are refurbishing your bathroom over a period of two or three weeks and you are adding a little bit at a time topping the skip up as you go then that is a great way to use a skip. Skips come in a variety of sizes ranging from a 2 yard skip 4 yard skip 6 yard skip And the most common skip is what is referred to as a builders skip which is 8 yards. Some people also call it ton skips so for instance 2 ton this is incorrect as a 2 yard skip will not hold 2 tonne. Some people don't always realise that skip wagons require quite a large amount of access in order to deliver a skip. If your property does not have a drive or a private piece of land for the skip to be placed you will also require a council permit prices vary based on which ever area you are in and which council you fall under.
[/div]
So to recap the pros of a skip they can carry heavy waste they are ideal for brick soil rubble garden refurbishments and knocking chimney breasts out removing walls etc there can also can be placed on your drive and so you can fill them at your leisure. The cons to skip hire if you start putting bulky items in such as sofas beds mattresses etc your skip will be full in no time this will not be cost effective the other downside to skip is if you don't have a driveway you will require a permit that will be an extra cost you also have to fill the skip yourself so if you're not able bodied or there is a lot of hard work involved you will have to do that yourself. You also need to be aware that if your skip is left unattended on the road your neighbours will fill it. Skips also look extremely unsightly when they are positioned outside your property sometimes for weeks at a time before the skip hire company will collect it skips are also a fixed price weather you fill it or not. Hope this helps this is a brief insight to the pros and cons of skip hire my name is Tom Pickering Clearance and Clean Up South Yorkshire's largest rubbish removal and property clearance company thank you.  
[/div]
A few weeks ago, a story hit Sheffield that upset many of its residents.  This wasn't your regular kind of upsetting story because it was actually related to fly tipping after a house clearance in once of Sheffield's most beautiful areas.  Blacka Moor is a nature reserve and on a small road named Moss Road, on its outskirts, the bulk of a house clearance were discovered dumped.  This happening was discovered by a walker, who was horrified and reported in thereafter to the local council.  They highlighted the problems that dumping general rubbish and off loading post house clearance can cause.  These reasons included the eyesore that it causes and the dangers rubbish can cause to humans, wildlife and livestock who live in the area. Plastic bags for example can cause suffocation, glass can cut, injury and kill, as can any sharp object, most household items are not able to be broken down naturally so ecologically are environmentally extremely unfriendly and financially, why should the council have to pay for someone else's household items to be removed and disposed of?  People may think that fly tipping will save them money because they won't have to pay the waste disposal charge, but they obviously do not realise that personal identification can often be obtained from litter which has been dumped and the owner is then tracked down and fined.  This certainly will not save them money!
Respectful Rubbish Removal Specialists – Clearance and Cleanup
Here a Clearance and Cleanup, we are trained to take on any sort of rubbish removal you could possibly think of.  So whether you need to clear out or even if you would just like to free up a little space either at home or at work then why not call us and we can help you reclaim space.  We will come to your property and collect your rubbish and we guarantee that it is disposed of responsibly.  We work in partnership with charity shop and recycling stations so that your rubbish is sustainably disposed of.  Once we have completed your rubbish removal we will provide you with a waste transfer note which is not only a legal document but also confirms that we have done our job correctly so that you can sleep easily at night.  We are highly trained specialists and wear our uniforms with pride because we do our job quickly and to the highest of standard.
[/div]
Contact Clearance and Cleanup
If you are looking for assistance and are looking for a trustworthy, reputable and honest house clearance and rubbish removal team, then why not give Clearance and Clean Up a call.  We work in the Yorkshire area, covering specific areas, such as Sheffield, Chesterfield, Worksop to name but a few.  We guarantee to make your house clearance or your rubbish removal run as smoothly as it possibly can, whilst being economical, too.  So if you either want to declutter or if you are moving house and need assistance, then contact Tom and his professional, friendly team on 0800 410 1086, email us at [email protected] or you can click here and follow the link to be taken directly to our website to read more about the services we offer.
[/div]
As professional providers of rubbish removal Sheffield, a recent article in the Sheffield Star caught our eye as it addressed the worsening problem of fly tipping in some areas of Sheffield. A campaign carried out by the newspaper called 'The Star's Your Right to Know' campaign showed that the problem affects residents right across the city, with discarded bags, rubble and industrial waste even seen in beauty spots. According to council officers, a total of only 27 convictions for the offense of fly tipping have been secured, as it often happens during the night and is therefore difficult to prove.
The Definition of Fly Tipping
Fly-tipping is the illegal deposit of waste on land not permitted to receive it, and can be liquid or solid in nature. Fly-tipping differs from littering in that it invariably involves the removal of waste from premises where it was produced with the deliberate aim of disposing of it unlawfully, or as a result of legitimate outlets not being available.
Complaints to Sheffield Council
The problem is particularly bad on Abbeydale Road in Sheffield, a busy street lined with business and houses. In the last three years alone, 100 complaints have been made to Sheffield Council regarding the discarded litter on this road, more than any other road in the city. A particularly bad spot in this area is at the back of Broadfield Park, just off Abbeydale Road, where it has been reported that there is a pile of discarded bricks, as well as household waste, several margarine tubs and a fire extinguisher. Along the nearby riverside there are carrier bags and lots of bottles and cans.
Businesses Forced to Take Litter Home
According to the Sheffield Star, the staff at Abbeydale road firm Hadfield Electrical have been forced to take litter home to dispose of, as the bins outside their premises are constantly filled during the night. Hadfield Electrical staff member Lee Warner said "It happens every week – during the night when there is nobody here. We've got used to it. The binmen came on Monday and didn't take the rubbish. We take some stuff home and put it in our own bins. Every now and then we have to go to the tip but we can only go so many times."
Fly Tipping in Parks and Green Spaces
Fly tipping is Sheffield is more prevalent on roads close to parks and green spaces, according to figures obtained from Sheffield Council. Mike Parry, manager of the council's environmental enforcement team urged people not to use unofficial methods of disposal, as often these so-called firms take money and then dump the waste. "Sometimes we can trace waste back to the household or business and they then run into difficulties. In good faith they have paid someone to take it away and think it will be disposed of properly, but it has been dumped," he said.
Rubbish Removal Sheffield
Avoid companies that use unofficial methods of disposal by using Clearance and Clean Up. We dispose of waste correctly and recycle as much as we possibly can. All of our prices include labour and disposal fee, there are no hidden charges, and you can rest assured that your waste goes to a proper licensed disposal facility. For fly tipping and rubbish removal Sheffield, Doncaster, Rotherham and Barnsley, please contact Clearance and Clean Up on 0800 410 1086 or 0114 403 1021, or email us on [email protected]
A recent article in the local newspaper the Sheffield Star reported that a major shake-up was needed at a number of the Sheffield based waste recycling centres, with Union bosses suggesting that they would be better off being taken over by a local charity after a long running dispute. The paper reported that industrial action had been held at the five centres last year, which are operated by the sub-contractor The Green Company on behalf of Sheffield Council and Veolia, over pay, conditions and claims of bullying. The action, however, has been suspended for negotiations since November last year.
The Green Company No Longer a "Responsible Provider of Public Services"
According to the Sheffield Star, the union called on the local council last week to act, and claimed that The Green Company was using new staff on zero hour contracts, as well as unpaid workers referred by the probation service, to try to break the dispute. Sheffield Council said that it would be seeking action, and that the local authority "could no longer have confidence" in the ability of the Green Company to manage the centres, or act as a "responsible provider of public services."
Although profit from The Green Company goes to the charity Salvaire for intended use as grants from charities, GMB has controversially revealed that 35 per cent of the budget in fact goes on management costs and wages. The GMB organiser at Sheffield Council, Peter Davies said: "It is a charity model that isn't working - the trustees are in London, it is faceless. We need a Sheffield charity run by the people of Sheffield, delivering a service for Sheffield."
Household Waste Recycling Centres in Sheffield
There are several different site locations throughout Sheffield that are used for the disposal of waste. Household Waste Recycling Centres, which are more commonly known as tips and dumpits, allow Sheffield residents to safely dispose of a variety of different waste items, such as garden waste, furniture, including sofas, beds and mattresses, and electrical equipment including fridges, freezers, TVs, light bulbs and batteries. It is recommended by the local council, however, that a skip should be hired for renovation or construction waste, rather than taking this to a recycling centre.
Services for Waste Clearance and Rubbish Removal Sheffield
As rubbish removal Sheffield experts, Clearance and Clean Up know that it isn't always convenient or appropriate to take lots of items down to the tip. It can be a huge chore, especially when lifting and shifting, loading vehicles, transport and vehicle size may be issues. And there are occasions where the council will recommend hiring a skip, which can be expensive. Here at Clearance and Clean Up, we can help you when need to dispose of rubbish, unwanted furniture or household items. Our rubbish removal services in Sheffield, Doncaster, Rotherham and Barnsley are reasonably priced, and we do all the lifting and shifting for you, making it a very hassle free way to de-clutter your home, garden, or office. Call us on 0114 403 1021 or email [email protected]
The new year is now in full swing and you may be well on the way to keeping your new year's resolutions as habits for the rest of 2015. But what about recycling? Did you make it your mission to recycle more this year? If not, there's still time! As house clearance Sheffield experts, Clearance and Clean Up know just how important recycling is to the future of our planet, so we've put together 5 top tips that will help you to recycle more this year.
Know What Can Be Recycled and What Can't
To make sure you're recycling properly, a little research is required. All it takes is a quick read up on the recycling rules for your area so that you can make sure you don't send in anything that can't be processed. Try to follow the guidelines as best you can and you'll be amazed at how much you can recycle with minimal effort.
Think Ahead
Another great way of recycling more starts well before you finish a product. When you are out shopping, try to keep an eye out for recyclable goods. If your usual brand of washing powder comes in an unrecyclable container, shop around to find one that can be, and think about switching. Small changes like these take little effort and can make a real difference to the volume of unrecyclable waste you produce. Whenever you buy something that is packaged, take a quick look at how it can be reused or recycled, and make your purchasing decision based on that.
Keep in Recycling Bin in a Visible Place
If you have a bin specifically for recycling, make sure you keep it somewhere where you see it regularly. The best place to put a recycling bin would be next to your general waste bin, so that every time you go to throw something away you are prompted to consider if it could be recycled.
Don't Forget the Bathroom!
Although your recycling bin may be in the kitchen, don't forget that bathroom items can often be recycled too. Don't overlook shampoo bottles, shower gel bottles, bubble bath bottles, face wash bottles – you get the idea! You may want to keep a separate bin in the bathroom for recyclable objects to make life easier, no one wants to go rummaging through a bathroom bin to sort it out later! Also, don't forget empty toilet rolls, they can be recycled too!
Use a House Clearance Company that Recycles
For items that won't be picked up by the council, choosing a reputable house clearance Sheffield company is a great option. Clearance and Clean Up aim to reuse as many items as possible, or recycle them for their raw materials so that they can be made into new items, therefore reducing the amount of waste that makes its way to landfill. For more information, contact us on 0800 410 1086 or 0114 403 1021, or email us on [email protected]
The Sheffield Star has reported that fire chiefs in Sheffield and South Yorkshire are finally bringing down the number of arson attacks in the area. Initial figures suggest that the number of fires that were started deliberately across the UK dropped significantly last year compared with the previous year.
Arson Attacks Falling in South Yorkshire
According to the latest figures, arson attacks at homes, buildings and on cars have fallen from 753 in 2013 to 619 up until November 2014. In addition, the number of minor fires started in bins and involving rubbish or grass has dropped from 2,982 to 2,382. As rubbish removal Sheffield experts, it's encouraging to hear that arson attacks are falling, especially in the instances where rubbish and bins are being set fire to. It's a real shame that people see rubbish as an opportunity to commit arson, and we make it our mission to ensure that rubbish is removed from sites all over South Yorkshire, including Sheffield, Rotherham, Doncaster and Barnsley.
The Chief fire officer of South Yorkshire Fire and Rescue, Jamie Courtney, said: "We have a number of arson reduction projects which are working quite well and the number of deliberate fires is reducing – we will never get rid of them completely."
Arson Attack on Rubbish Pile in Rotherham
Just last week, fire fighters were called to a fire at a disused council depot in Sheffield, for the second time in only four days. Fire crews managed to out the flames in the building on Gayton Road, Pitsmoor, and a police investigation will follow. Fire fighters were also called to an arson attack the week before after a pile of rubbish was deliberately set alight on Fenton Way in Rotherham.
Rubbish Removal Sheffield, Yorkshire and Derbyshire
Here at Clearance and Clean Up, our rubbish removal Sheffield services are available to anyone who has unwanted rubbish, garden trimmings and other unwanted objects. Unfortunately, arson attacks on rubbish and garden waste are still a problem in the area, and disposing of this type of waste as soon as possible is a wise move.
We work throughout South Yorkshire and Derbyshire to reduce the amount of waste and rubbish in the area, regularly covering Sheffield, Barnsley, Rotherham and Doncaster. Our rubbish removal prices are based on the volume of waste cleared, and heavy loads such as brick, rubble or soil are charged by weight depending upon the material removed. All of our prices include the removal and the disposal of all items cleared.
Several areas across Sheffield have been under the cover of snow after a heavy fall on Boxing Day evening, causing havoc for the city's bin emptying schedule. Waste collections were cancelled due to the extreme weather conditions in the days over Christmas and the New Year, leaving areas such as Whirlow, Sharrow Vale, Bradway, Dore, Totley, Milhouses, Brincliffe, Carter Knowle and Nether Edge without blue bin collections.
As providers of rubbish removal Sheffield services in Sheffield, Doncaster, Rotherham and Barnsley, we know just how quickly waste and rubbish can build up when it is not collected by the authorities. This recent disruption, which has left bins overflowing with festive waste, has caused a backlog of rubbish for many local areas, and great inconvenience for the residents of Sheffield.
Bagged Black Bin Waste Removal
Sheffield Council contractor Veolia urged residents to leave their bins on the street until they have been emptied, and advised that bin men will collect bagged extra black bin waste and small amounts of extra cardboard at the side of blue boxes or bins. Francis Drew, Veolia contract manager, said: "We apologise for any inconvenience caused and thank residents for their patience. We hope the milder conditions forecast towards the end of the week will mean we can recover collections missed with the snow and ongoing icy conditions."
Backlog of Rubbish After Heavy Snow Fall
Black bin collections were due on Tuesday December 30th, and the Sheffield Star reported that Veolia would carry out collections 'where possible'. They were also dealing with a backlog of black bins that were due to be collected earlier in the week but cancelled due to the snow and ice. A Veolia spokesman said: "The weekend snowfall and ongoing icy conditions have resulted in delays to waste and recycling collections. Many side roads remain snowy and icy which make for difficult conditions for large refuse collection vehicles and collections staff to operate safely in."
Alternative Waste Disposal Arrangements
For those of you who have more than just household waste to dispose of this New Year, whether you are having a clear out, a pre-spring clean, or are clearing a property altogether, Clearance and Clean Up can help. Even when the service isn't disrupted by the snow, local bin collections won't take extra rubbish or household items during their delivery, so alternative waste disposal arrangements will need to be made.
Waste Transfer Notice and Waste Electrical Equipment for Rubbish Removal Sheffield
As rubbish removal Sheffield experts, Clearance and Clean Up can come and collect your rubbish, unwanted items, and waste 7 days a week. If needed, our collections can be carried out after normal working hours for your convenience. On completion of the collection you will be issued with a waste transfer note, which is required by law and gives you the peace of mind that your rubbish is being dealt with in the correct manner. We can also remove any Waste Electrical Equipment (WEEE) and dispose of it. Contact us on 0800 410 1086 or 0114 403 1021, or email us on [email protected]
Now that Christmas is over and the New Year has begun, you may be thinking about the best way to approach your garden in order to get it ready for the warmer weather and the approach of Spring. Here at Clearance and Clean Up, we see many people after Christmas taking advantage of our garden clearance and rubbish removal Sheffield services, clearing the way for their gardening plans in the New Year.
Although your plants will still be dormant at this time of year, it's a great time to start planning and preparing your garden for the months ahead. The more you do now, the easier your gardening jobs will be later in the year, so it's worth braving the cold to get some work in now.
Re-Plant Deciduous Shrubs
Winter is the best time to move and re-plant deciduous shrubs that may be in the wrong place or that you'd like to move, as they are now dormant. When digging out the shrub, make sure you take out quite a wide area around it and as much of the root ball as possible; this will help the plant to get established quickly in its new location.
Order Summer Bulbs and Seeds
Whether you prefer to visit your local garden centre or order online, winter is the perfect time to order summer flowering bulbs and seeds. Choose plants and flowers that can be planted in early spring, such as Lilies, Ranunculus and Gladiolus.
Get Rid of all the Rubbish!
You may have a sack full of garden waste that you'd like to get rid of, the remnants of your old fence, or broken garden furniture laying around your garden. Now is the time to have a good clear out and get rid of all the rubbish, so when the weather does improve, you'll be able to enjoy your garden. Use a reputable rubbish removal service in Sheffield to help you with this, it saves you lots of time and is a really fast and affordable way to tidy up your garden.
Tidy Up Flower Beds and Boarders
Winter is a good opportunity to have a general tidy up in your garden. You may want to remove leaves and other garden debris from your lawn, flower boarders and pond. Again, using a reliable rubbish removal Sheffield company to take away anything you need to get rid of is a great start.
Clean Greenhouses and Gardening Tools
Before Spring arrives, give your greenhouse a good tidy up and a thorough wash. Sweep the floor, clean the glass, and wash pots and seed trays to prevent disease. Remember to ventilate your greenhouse well after this process so you can be sure that everything has dried off properly.
Garden Clearance and Rubbish Removal Sheffield
If you do decide to get stuck in to preparing your garden for the Spring in the next few weeks, our garden clearance and rubbish removal Sheffield services in Doncaster, Rotherham and Barnsley can help. Our friendly staff can remove everything including hedge trimmings, dead plants, felled trees and unwanted top soil. Contact us on 0800 410 1086 or 0114 403 1021, or email us on [email protected]
As a company specialising in litter picking and rubbish removal services in Sheffield, Barnsley, Doncaster and Rotherham, Clearance and Clean Up follow the media closely when it comes to issues regarding the environment, recycling  and littering.
The Guardian newspaper published an interesting and slightly shocking article this month revealing the full scale of the plastic in the world's oceans for the first time. According to the most comprehensive study to date on plastic pollution around the world, there are over five trillion pieces of plastic floating around in our oceans.
Plastic Particles in the Oceans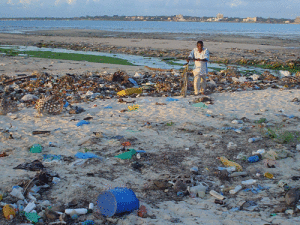 Scientists collected data from the US, France, Chili, Australia and New Zealand, and their results found that there is a minimum of 5.25 tonnes of plastic particles in the oceans, most of them "micro plastics" measuring less than 5mm. The plastic is largely derived from food and drink packaging and clothing, and can have a devastating effect on the lives of animals and their food chains.
While large plastic pieces can strangle larger animals such as seals, smaller bits are eaten by fish and spread up the food chain. That means that these plastics, and all the chemicals that they attract, are actually ending up on our plates, and may be ingested by humans.
Rising Production of Throwaway Plastic
As only 5% of the world's plastic is currently being recycled, coupled with the rising production of throwaway plastic, researchers are predicting that the volume of plastic in the ocean will continue to rise. Julia Reisser, a researcher based at the University of Western Australia said "Lots of things are used once and then not recycled. We need to improve our use of plastic and also monitor plastics in the oceans so we get a better understanding of the issue."
Responsible and Sustainable Rubbish Removal Sheffield
Obviously, the staff at Clearance and Clean Up make it their mission to collect rubbish, whether it is from house clearance or rubbish removal Sheffield. We have very strict rules about disposing of waste responsibly and sustainably and we have lots of contacts in local charities and recycling stations too. We also issue a waste transfer note after each collection, which is a legal requirement. In addition, our Waste Electrical Equipment Removal (WEEE) means that any electrical items that we take will be recycled, with 0% going to landfill. Therefore, if you use Clearance and Clean Up for rubbish removal in Sheffield, Doncaster, Rotherham or Barnsley, you can be assured that you are making an environmentally friendly choice.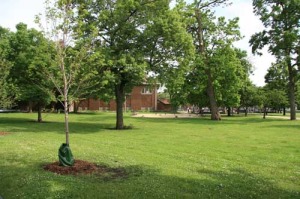 As rubbish removal Sheffield experts, we are fully behind the 'Love Where you Live' campaign from Keep Britain Tidy. The Sheffield Star has recently reported that fly-tipping has been reduced by a third on council estates in the east of Sheffield. Council chiefs are putting the success down to the 'Love Where you Live Campaign', which targeted estates including Margate, Carwood, Lower Wincobank, Lopham, Wensley and Greenland. The council organised various clean-up days, estate walkabouts and home visits, and distributed posters, factsheets and leaflets about rubbish disposal.
Littering and Fly-Tipping in Sheffield
Last March, the Sheffield Star published a story highlighting the serious problem of littering and dog fouling, reporting that the number of people who were given fixed penalty notices had tripled during 2013. September saw South Yorkshire Police and community support officers becoming the first in the country to collect evidence of the problem, with the council welcoming increased action against offenders. With regard to the recent fall in incidents of littering and fly-tipping, Councillor Harry Harpham said "We remain committed to this and the work has already had very positive results."
Improve the Environment with Keep Britain Tidy
The Keep Britain Tidy 'Love Where you Live' campaign is based on the idea that respect for your planet begins with respect for your neighbourhood. Celebrity ambassadors Ben Fogle and Kirstie Allsopp are helping to celebrate the UK's green spaces, encouraging people to clean up communities and tackle the problem of dog mess.
As an independent charity, Keep Britain Tidy fights for people's right to live and work in places of which they can be proud. They believe that caring for the environment is the first step to a better society, and work at the heart of business, government and community to help people understand that what's good for the environment is also good for us. As a professional rubbish removal company in Sheffield, Clearance and Clean Up firmly believe that our environment is incredibly important, and that keeping the place where you live tidy and rubbish free is a must for a healthy, happy society.
Rubbish Removal Services in Sheffield
Our rubbish removal Sheffield services are affordable and hassle-free. We have a team of specialist, highly trained, uniformed staff who provide a reliable rubbish removal, clearance and recycling service across Sheffield, Barnsley, Doncaster and Rotherham. Once we've collected your rubbish in our rubbish removal trucks we'll make sure it's disposed of responsibly and sustainably through our extensive contacts which include local charities and material recycling stations.