Without proper planning, office moves can put a huge amount of stress on everyone involved. This article outlines the simple steps that you can take to make your relocation go as smoothly as possibly. As experts in office clearance Sheffield, Clearance and Clean Up help hundreds of businesses move premises every year, so continue reading for our top tips!
Have a Clear Idea of Your Requirements
You need to have a good idea about the logistics of your move, not just to keep yourself organised but to ensure that everyone involved in the moving process knows the score too. Apart from a clear idea of where you want to move to, how much space you will need, and when you need to be in the property by, you also need to think about the key features of your new office, your planned business objectives that the move needs to satisfy, and the type and length of lease that you want.
Start Early
It's not a small task, moving offices. By starting early, you'll have a greater chance of ensuring that the transition between leaving the old premises and getting into the new one is as smooth and stress free as possible. It's a good idea to review your options with regard to lease expiration of your property, regardless of whether you want to stay or not, around a year before it's due. This will give you time to plan for the future, think about relocation with a clear sense of where you want the business to progress to, and ensure that you have plenty of time to plan.
Create a Floor Plan for Your Office in Advance
Before moving your business into a new office, it's really important to have a clear understanding of the layout of your new office space. Once you've planned out where everything will go, all you need to do is make this plan available at the new premises for everyone involved in the move, and with any luck, everything should end up in its proper place. This means taking measurements of the new office space well in advance of the move so that you know where everything will fit and where it will be positioned.
Hire a Professional Office Clearance Sheffield Company
It's really important not to underestimate the size and scale of an office move. Hiring a man with a van or a company that only do house clearance and domestic moves may not provide the service you need. Household movers often severely underestimate commercial relocations, so hiring a company that is an expert in office clearance Sheffield is really important.
Take the Opportunity to Have a Clear Out!
Moving offices presents a fantastic opportunity to have a good clearout. Get rid of unwanted paperwork and take the time to go through all storage areas, clearing out as you go. If you're worried that you'll be short of space in your new office, consider a secure storage facility or archival documentation. This is a great way of freeing up valuable and more costly office space.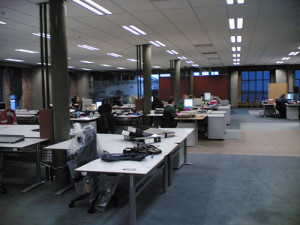 Whatever the reason for your office move, businesses need to consider the best options for the process of relocating the location of their company in order to reduce the amount of hassle and fuss. It's absolutely essential that office moves are carried out quickly and efficiently to minimise delays on the business, which can be costly. There are some simple things that you can do to make sure your office move is as stress-free as possible. As experts in office clearance Sheffield, Clearance and Clean-Up have put together four helpful tips on moving offices.
Tackling Clutter
Everyone knows that regular de-cluttering is essential for a creative and productive working environment, but it's easy to let it fall to the wayside when life gets busy. When packing, deciding what to bin and what to keep, and generally sorting through the contents of your office, start small. Empty drawers, clear desktops and tackle bookcases first. Getting these smaller items out of the way will allow room for moving furniture and shifting larger items such as desks, shelving units and chairs.
Check for Sensitive Documents
Take care when packing and sorting out what to keep and what to dispose of. There may well be a number of sensitive documents containing private information or customer details, and you need to ensure that they are treated appropriately. For those you need to keep, make sure they are clearly labelled to prevent them being misplaced, and for those that can be destroyed, ensure that they are done so in the correct manner. Any archived files should be removed, clearly labelled and stacked neatly.
Waste Reporting and Compliance
Getting rid of waste, rubbish and unwanted office items isn't as easy as you may think. As a company, you have a duty of care to make sure that your waste is disposed of in the correct way. As experts in office clearance Sheffield, Clearance and Clean Up posses a full waste carriers licence and are compliant with the waste electrical directive to ensure that electrical waste (WEEE) is directed away from landfill.
Specify a Completion Date
A sensible way to ensure that your office is cleared on time is to agree a date by which it needs to be cleared and work back from there. It's worth leaving a few days spare in case the clearance overruns; it's easy to underestimate just how much needs to be done.
If you are planning on an office move or relocation of your business, there's a simple way to ensure that the process is as stress free as possible. Our office clearance Sheffield services are fast and efficient, meaning that your business will be back up and running in your new office in no time. Call Clearance and Clean-Up today for a free site visit on 0800 410 1086 or 0114 403 1021, or email us on [email protected]
As specialists in office clearance Sheffield, Clearance and Clean Up have carried out an extensive number of office clearances throughout South Yorkshire. We've put together our top 5 reasons for choosing us for your office move.
1. We Recycle or Reuse as Much as Possible From Office Clearance Sheffield
We ensure that we recycle and reuse as much as possible when we carry out office clearances in Sheffield. We find that in most cases, waste from office clearances can be recycled or reused, and we endeavour to do so as much as possible. We have excellent relationships with many charity outlets, and if your items can be reused, we will ensure that they are. If not, they will be recycled and made into new item in order to reduce the amount of waste that ends up in landfill.
2. We Safely Dispose of Confidential Waste
During the course of running a business, it's inevitable that paperwork will stack up. Understandably, some of this paperwork may be confidential, and will need to be disposed of appropriately. As experts in office clearance in Sheffield, we are able to dispose of your confidential paperwork sensitively, and provide all necessary paperwork to prove safe and environmentally friendly disposal.
3. Fully Compliant with the Waste Electrical Directive
Here at Clearance and Clean Up, our office clearance teams are fully compliant with the waste electrical directive that ensures that electrical waste (WEEE) is directed away from landfill.
4. We Take Items of any Size
Whether it is a large table from a boardroom and multiple desks, or electrical appliances and paperwork, we are able to take away items of all shapes and sizes.
5. 30 Day Payment Terms
We offer all commercial and business customers 30 day payment terms on all the work we carry out. This is great news for businesses moving offices or relocating, as it means that they can get settled in to their new accommodation before they sort out the bill, taking the pressure off considerably!
Office Clearance for Relocating Businesses in Sheffield
If you are moving offices or relocating and want to ensure that the process is as stress free as possible, the office clearance Sheffield services from Clearance and Clean Up can help. Call us today for a free site visit on 0800 410 1086 or 0114 403 1021, or email us on [email protected]