Tom's Top Tips
Get yourself organised – this is the key for a smooth, successful and the most economical house clearance possible for everybody involved.
Remove the items that you definitely want to keep so that clearance can be done with minimum fuss and confusion.
Give reusable items, which are in a good condition, to your family and friends – it's a nice way to recycle your used items without throwing them away unnecessarily.
Bagging up clothing, towels and bedding BEFORE we arrive can really speed up the clearance process and reduce the length of time drastically that we are on site for.
This is the same for the kitchen cupboards, which are best emptied on to the kitchen sides.
Get permission from your neighbours, regarding parking and pedestrian access.
Make sure we have clear access for us to manoeuvre and for our vans, too – the quicker and it is easier it is for us, the more cost effective it is for you and obviously we want to avoid damaging anything or obtaining any injuries from tripping over anything etc.
The more you are able to do in advance, prepare, pack up or move, the less time we will spend in your property and therefore the cheaper your house clearance will be. The longer it takes us, the more expensive it will be for you.
What is A Big Hindrance During a House Clearance?
People not having front and back door keys for us to use so access is limited or denied.
Wanted and unwanted items being mixed together – it is always best to have the wanted items cleared first and separately from your unwanted items to avoid any of your wanted items being removed and disposed of accidentally.
[/div]
What Makes a House Clearance CHEAPER FOR YOU?
You being organised
You having a list of the large items that you wish us to deal with which you can tell us about when you ring us up and book us to do your house clearance over the phone. Large items include items such as beds, sofas, wall units, Pianos, wardrobes etc.
What is the Average Cost of a House Clearance?
This is 100% dependent on the property size, the volume of items of removal and the length of time we are on site for.  But here is a rough idea for you of different types of average property house clearance prices:
1 bedroom flat                  =             £230
2 bedroom terrace          =             £295
3 bedroom house            =             £295 to £455
These prices are based on normally furnished properties and do not include garages or outbuildings.  Neither do these prices include the take up or removal of carpets.
Contact Clearance and Cleanup Today
If you are in need of house clearance services for house clearances Sheffield then why not get in touch with us here at Clearance and Clean Up.  We offer fair and competitive rates and cover the whole of Yorkshire.  We are available to work for you 7 days a week to fit in around your busy schedule at no extra fee and we are fully insured to clear your house for you to the highest of standard, in as eco-friendly a manner as possible.  So contact Tom Pickering today on 0800 410 1086, email us at [email protected] or click here to go directly to our website to find out more information about our company and the services we offer.
[/div]
We talk a lot about the importance of checking that your waste removal professionals are fully certified to be handling your waste and will dispose of it in a legal and environmentally friendly way. We've seen a lot of stories in local media in the past few weeks that show exactly why we are so concerned about illegal waste removal.  The welfare of our environment is very important to us, which is why we recycle whenever we can, but we also care about our clients and don't want to see them being ripped off or worse!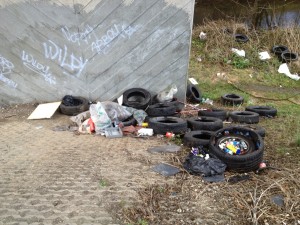 Ask to See a Licence
A man from Soham, Cambridgeshire last week was ordered to pay almost £3,000 in fines and court costs as he was found guilty of profiting from scrap metal and carrying controlled waste without a Waste Carriers Licence. Anybody that transports or sells unwanted scrap metal is required by law to register with the Environmental Agency and purchase a licence which costs around £150 and lasts for 3 years. If you are found handling this type of waste without a licence you are liable for a hefty penalty.

Tipping in Public Spaces
People that offer to take away rubbish for a small price or even for free make their money illegally. The way that this man made money was by selling the metal to scrap yards, however not all individuals can make profit from selling on materials they are offering to remove. If this is the case, often the waste is dumped in public spaces.
In a particularly distressing case, one man found himself at the centre of a flytipping incident involving the possessions of his recently deceased Father. The man gave up the belongings to two people working on behalf of the British Heart Foundation, requesting that they be recycled. The unsaleable items were agreed to be disposed of for £150. The two BHF workers gave the items to an unlicensed individual who then dumped them in a forest. Mr Locker, working for the BHF, has since lost his job working for the charity and was ordered to pay just under £500 in fines for using illegal waste removal services.
"It could be you who ends up in court"
Due to the fact that the unlicensed person could not be traced, it was Mr Locker who was charged as he failed to check for proper documentation. A spokesperson for the local environmental services said:
"This should be a lesson to all residents, there are unscrupulous people out there who will take away your rubbish and dump it illegally […] if they cannot be found and the rubbish is traced back to you, it could be you who ends up in court".
Safe & Legal
It is important to keep in mind the effects that using unlicensed waste carriers can have on the environment, but also the risks that you put yourself under if flytipped waste is traced back to you. ALWAYS ask to see a Waste Carriers Licence to ensure that your rubbish is being handled safely and legally. Clearance and Clean Up are a fully licenced company and are capable of removing any waste you need taking care of. Get in touch if you think we can help!
_____
Sources:
http://www.environment-agency.gov.uk/news/149442.aspx
http://www.bournemouthecho.co.uk/news/10612231.Charity_driver_admits_fly_tipping_offence_after_dead_man_s_items_dumped/
With a new shopping mall and multi-purpose arena built right in the centre of Leeds, it's understandable that the council (and indeed the residents) want the city to look its best as it attracts new visitors. Last year though, the amount of complaints about litter doubled from the previous year with almost 3,000 grievances being filed. The number of complains concerning dog fouling were up to 827 last year too, which is almost 8 times the amount that it was from the year before. Clearly litter is a problem in Leeds, so it is encouraging to hear that Leeds City Council has schemes in place to keep the city centre clean.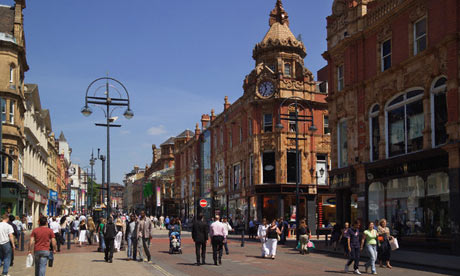 Taking it to the Streets
A private firm has been hired to issue on-the-spot fines if they see anyone committing an act of littering, with the penalty standing at £75. A small team is currently patrolling the heart of Leeds, on the lookout for those carelessly discarding rubbish instead of using litter bins, or allowing their dogs to foul the pavements. There is slight controversy over the fines system however, as Leeds city council take a percentage of the fine, whilst the hired firm takes the rest. The catch is that this is how the company makes their money, as they are not being paid by Leeds City Council. This could lead to heavy handed policing of the situation and misleading figures being produced.
The Right Impression
This is a trial scheme that is being run, however between the period of April to July over £44,000 has been generated as a result of the fines. This means that a six figure sum could potentially be reached within a year. The council claims that although they stand to make money from the scheme, their primary goal is to improve the look and cleanliness of the city. With the rise in visitor numbers to Leeds, they say it is important to create a good impression to encourage repeat visits to the popular West Yorkshire hub.
Your view?
What do you think about how this litter problem is being handled? Surely any scheme to keep our streets clean is a good thing, though perhaps a private hire company could lead to overzealous officers dishing out unnecessary punishments. Let us know in our comments section below.
Clearance and Cleanup offers a litter picking service, available to cater for both public spaces and private hire. Whether this is a short term job, such as cleaning up after a festival, or longer term contracts working in conjunction with councils or agencies, we are able to accommodate most needs.
Source:
http://www.yorkshirepost.co.uk/news/features/sweeping-away-the-leeds-litter-louts-1-5885171